Just over a year into his role as chief executive of Boeing's sprawling military and space business, Ted Colbert's top priority is not a sleek new stealth fighter or prototyping an ultra-fast hypersonic missile.
Instead, Colbert gives an answer fitting for one who previously oversaw aircraft maintenance and parts delivery for the American aerospace giant.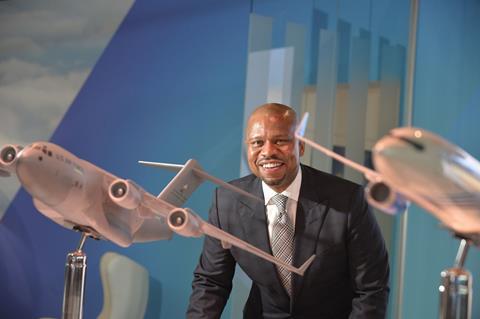 "Our overarching priorities… are really driving stability, productivity and predictability into everything that we do," Colbert says in an interview ahead of 2023 Paris Air Show.
When he took the helm at Boeing Defense, Space & Security (BDS) in 2022, Colbert inherited a business burdened by expensive, money-losing aircraft development programmes.
New jets such as the T-7A Red Hawk fighter trainer and VC-25B replacement to the USA's current Air Force One were haemorrhaging cash. Aggressively-bid, fixed-price contracts awarded before the Covid-19 pandemic were costing BDS billions, as price inflation, labour challenges and supply-chain delays triggered penalty charges from the Pentagon.
Another high-profile new aircraft programme, the KC-46 Pegasus tanker, has been plagued by engineering challenges and government-mandated redesigns to the refuelling boom and Remote Vision System.
Colbert acknowledges it has been a "tough couple of years" for BDS.
His focus since assuming the CEO position has been on finding ways to "de-risk" the programmes with high-profile challenges. This is being accomplished, he says, by focusing on the "fundamentals", including workforce proficiency, manufacturing competence and technology development.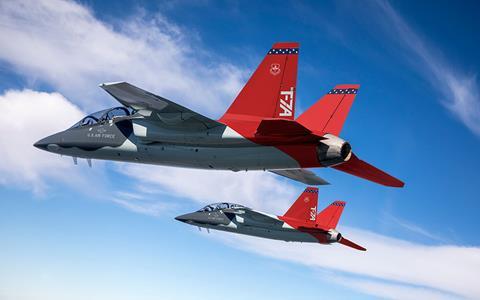 Part of that process, Colbert adds, is taking a "realistic view of the world" when it comes to cost and delivery timelines, and then communicating that to customers.
"It reflects a baseline that is realistic, given where we're starting, but it also reflects a commitment, a commitment to continuous improvement," he says.
Getting to a more stable development and production state goes beyond just a matter of financial importance to Boeing, the BDS chief argues.
"Our ability to predict how well we will perform on our big, fixed-price development programmes, and our enduring platforms, is of significant consequence from a global security perspective," Colbert says, placing emphasis on the word significant.
The former head of Boeing Global Services also wants to return BDS to more "traditional" margins and revenue levels. In general, that means growth levels and margins in the high-single digits, the company says.
Despite their troubled beginnings, Colbert thinks programmes like the T-7 and VC-25B will be a part of that future growth. Boeing's developmental autonomous aircraft, including the MQ-25 Stingray carrier-launched refueller for the US Navy (USN), will also play a significant role.
"These are all programs that have tremendous potential in the long run," he argues. "We've just got to go through the process."
Defence programmes typically start with several years of low-margin engineering design and initial production phases, before transitioning to the more lucrative period of full-rate production.
"This is innovative work happening," Colbert adds. "So there's learning that has to happen."
Going forward, Colbert says BDS wants to make sure it has "the right contracting profile in place" for all new programmes, in order to accurately reflect the cost and time that learning will require.
"It is ultimate transparency with the customer," he says. "Expected transparency from the supply chain, putting realism and experiential evidence and data into every estimate and programme plan that we have."
Colbert believes the approach, which he calls "starting right" will be key to putting Boeing's defence business on a more sustainable path.
"This is the way it gets done," he says. "When you start right, and you have a format and structure that that supports starting right, the probability of success goes up significantly."
Boeing will have no shortage of opportunities to apply that formula in the coming years.
Both the US Air Force and USN plan to acquire significant amounts of autonomous aircraft in the future decades. Boeing is off to a strong start in developing the nascent technology, both with its MQ-25 and the multi-role MQ-28 Ghost Bat being developed in partnership with the Royal Australian Air Force. BDS for the first time in May revealed it has brought an MQ-28 to the USA for testing.
The USAF envisions a prominent role for such pilotless jets, which the service is calling collaborative combat aircraft, as teamed assets for its Next-Generation Air Dominance (NGAD) initiative.
The USAF officially opened bidding on the sixth-generation fighter programme. Neither Colbert, nor his peers at the other US firms with experience developing stealth and fighter aircraft, are commenting publicly on their plans for NGAD.
"We continue to invest in areas of our business that are important to us across the spectrum," Colbert says, noting that includes investments in "next-generation fighters."
He specifically cites three new facilities in St. Louis, Missouri – where Boeing produces the latest F-15EX version of the venerable air superiority fighter – and a new advanced materials fabrication centre in Mesa, Arizona operated by the company's Phantom Works research and development unit.
"We are investing in the next generation of capabilities across the portfolio," Colbert says. "That will get us ready for any next big programme or requirement that comes out of the Department of Defense."