Conflicting news has emerged about the status of the Antonov An-225 Mriya, the world's largest aircraft, as Ukraine claims to have downed 74 Russian aviation assets.
In a statement dated 27 February, Ukrainian defence agency Ukroboronprom stated that the aircraft had been destroyed, and "will be restored at the expense of the occupant" – a reference to Russia, which last week invaded the democratic country.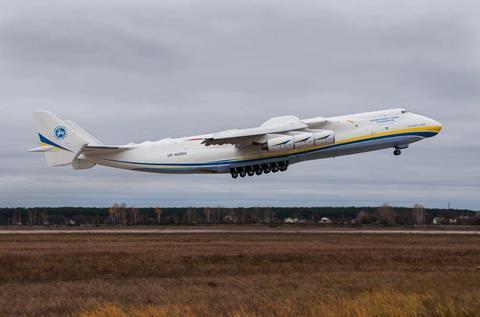 It estimated that the restoration work will cost $3 billion and take five years.
Ukroboronprom said the aircraft was destroyed at Gostomel airport to the northeast of Kiev, which is understood to be in the line of march from Belarus, one of the launching points for Russia's attack.
The Ukrainian Ministry of Foreign Affairs also tweeted to state that the jet had been destroyed.
Ukroboronprom, however, issued a second statement, quoting the director of Antonov Airlines, stating that the aircraft was under maintenance at the commencement of the attack and therefore unable to fly away.
"Currently it is impossible to assess the plane's condition and the possibility and cost of its restoring due the lack of access to the aircraft as the control over the airport is taken by the Russian occupiers," says the updated statement.
Оновлення інформації по стану літака #Ан225 «Мрія»: На теперішній час, допоки Ан-225 не буде оглянутий експертами, ми не можемо повідомити про технічний стан літака.

Чекайте на подальше офіційне повідомлення. pic.twitter.com/VCgykMW8ms

— ANTONOV Company 🇺🇦 (@AntonovCompany) February 27, 2022
Antonov also tweeted that "until the An-225 is inspected by experts, we cannot report on the technical condition of the aircraft. Wait until the next official announcement."
Antonov Airlines, a unit of Antonov, operates the An-225 and other transports.
Meanwhile, Ukraine's foreign ministry tweeted a list of Russian losses. It claims that Russia has lost 46 aircraft, 26 helicopters, and two drones. It does not break down specific types, or detail whether they were shot down in air-to-air action or by ground forces.
The status of Ukraine's aviation assets is unclear, but reports suggest that Russia has, so far at least, failed to fully knock out the Ukrainian air force. Ukraine's air defence system reportedly retains a degree of functionality. Moreover, Ukrainian forces have access to the Raytheon FIM-92 Stinger man-portable air-defence system, which is particuarly lethal against low-flying aircraft and helicopters.
Ukraine is inflicting disastrous losses on the enemy.

The overall Russian losses in these 3,5 days ⤵️ pic.twitter.com/LR5Jb3dZMK

— MFA of Ukraine 🇺🇦 (@MFA_Ukraine) February 27, 2022
Ukraine's defence inventory is dwarfed by that of Russia. Cirium fleets data cited in FlightGlobal's latest World Air Forces directory shows that, prior to Russia's attack on 24 February, Kiev had 318 military aircraft in use, including 98 combat aircraft and 112 combat helicopters. Its fixed-wing combat assets include Soviet-era RAC MiG-29s and Sukhoi Su-24, Su-25 and Su-27 jets.
By contrast, Moscow's 4,173-strong fleet includes 1,511 combat aircraft and 1,543 combat helicopters.