Boeing's MQ-25 Stingray unmanned tanker test asset T1 has completed its second in-flight refuelling, this time supporting a US Navy (USN) Northrop Grumman E-2D Advanced Hawkeye.
"During the 6h flight, navy E-2D pilots from Air Test and Evaluation Squadron VX-20 approached T1, performed formation evaluations, wake surveys, drogue tracking and plugs with the MQ-25 test asset at 220kt [407km/h] and 10,000ft," the US Naval Air Systems Command (NAVAIR) says.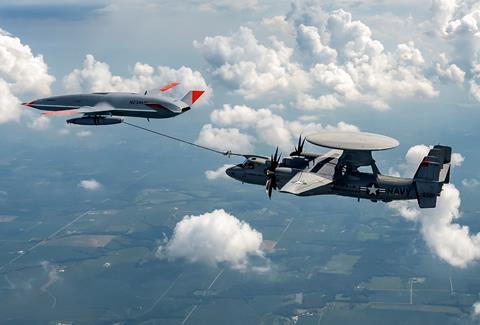 The 18 August sortie was conducted from MidAmerica airport in Mascoutah, Illinois, the USN says.
The successful unmanned refuelling test activity with the airborne early warning and command and control platform followed a 4 June debut involving a USN Boeing F/A-18F Super Hornet. "Both flights were conducted at operationally relevant speeds and altitudes," Boeing says.
"T1 testing will continue over the next several months to include flight envelope expansion, engine testing, and deck handling demonstrations aboard an aircraft carrier before the MQ-25 engineering, manufacturing and development aircraft are delivered next year," NAVAIR says.
"Once operational, the MQ-25 will refuel every receiver-capable platform, including E-2," notes Captain Chad Reed, the USN's Unmanned Carrier Aviation programme manager. The Stingray's future availability "Will greatly increase the range and operational flexibility of the carrier air wing and strike group," he adds.
"Our MQ-25 design is performing to plan," says Dave Bujold, Boeing's MQ-25 programme director. "These historic refuelling flights provide an incredible amount of data we feed back into the MQ-25 digital models to ensure the aircraft we're producing will be the navy's game-changer for the carrier air wing."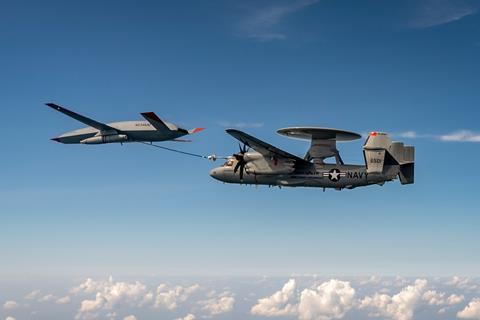 The USN recently conducted a simulation-based exercise with MQ-25 operations being controlled by an E-2D acting in a so-called "king tanker" monitoring role. This involved the Hawkeye crew controlling the tanker's orbit station, flightpath and aerial refuelling store payload, Boeing said on 3 August.
Meanwhile, the airframer says manufacturing activities are under way on "the first two of seven MQ-25 test aircraft and two ground test articles currently under contract".