Sweden has announced plans to adjust its entry into service schedule for the Saab Gripen E, with the step driven by a newly funded package of capability enhancements.
On 12 September, the nation's Defence Materiel Administration (FMV) announced an approximately SKr5.8 billion ($520 million) contract with Saab, under which the parties will "revise their existing agreement regarding development and production of Gripen E".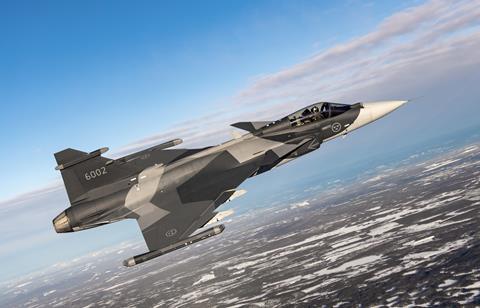 According to the airframer, work will include "changes to the electronic warfare, communication and reconnaissance systems", and result in "adjusted delivery schedules", without disclosing further details.
"In order to secure the Swedish armed forces' operative fighter capability, the armed forces, FMV and Saab have agreed on adjusted development and delivery plans, enabling continued development and operation of Gripen C/D after 2030 in parallel with the introduction of the next generation Gripen E," Saab says.
The Swedish air force has previously outlined plans to field its 60 on-order Gripen Es operationally from January 2025, and to remove the last of its nearly 100 C/Ds by 2035. It is unclear if the new announcement will affect either of these dates.
"The contract aims to enable parallel development and operation of the two combat aircraft systems," the FMV explains.
Stockholm has funded development of the Gripen E since 2013, and Lars Helmrich, head of the FMV's aviation and space equipment unit, notes: "In such a long and complex development project, the outside world has time to change. The further deterioration of the security policy situation, culminating in Russia's attack on Ukraine, has made clear the need for a strong combat aviation capability over time."
Additionally, Sweden is awaiting the completion of accession protocols which will result in it becoming a NATO member, having moved to abandon its non-aligned status following Moscow's February 2022 invasion of Ukraine.
The FMV notes that its pilots will commence intensive flight testing of the Gripen E later this year, with the activity to "lay the foundation for the armed forces' introduction of the system in the second half of the 2020s".
Helmrich says that once equipped with the undisclosed enhancements, the future Gripen E fleet "will be a very strong addition when the system is added to the air force".

Craig Hoyle joined Flight International in 2003, and has edited the now monthly title since 2015. He has reported on the UK, European and international military aviation sector for more than 25 years, and produces our annual World Air Forces directory.
View full Profile