Sweden has signed a roughly SKr7.3 billion ($714 million) contract to acquire an initial two Saab GlobalEye surveillance aircraft, just one day after NATO approved its membership request.
Covering deliveries of the heavily adapted Bombardier Global 6000 aircraft in 2027, the deal – signed with the nation's Defence Materiel Administration (FMV) on 30 June – "also includes options that enable FMV to order up to two additional GlobalEyes", Saab says.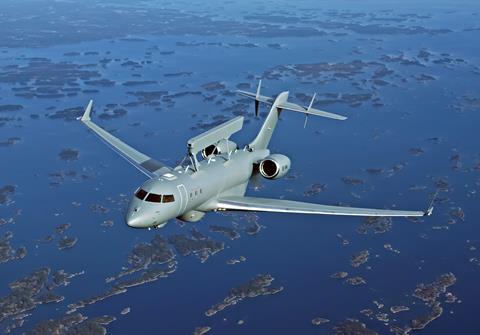 Stockholm late last year indicated its intention to acquire the GlobalEye as a replacement for its air force's current pair of Saab 340 airborne surveillance and control aircraft. Equipped with a Saab Erieye radar housed in a "Skibox" fairing above the fuselage, the twin-turboprop type has been in service since the 1990s.
Introducing the GlobalEye – a type already delivered to the United Arab Emirates (UAE) – will represent a major upgrade in capability for the Swedish air force.
Saab points to the more than 300nm (550km) performance of its Erieye ER extended-range radar, "as well as a suite of advanced sensors and a command and control system integrated into the Global 6000 aircraft". Capable of flying above 30,000ft for 11h, the platform can simultaneously monitor airborne, maritime and land-based threats.
The company has previously said that the Erieye ER has 70% greater detection range than its radar used on the Saab 340, and is capable of identifying and tracking low-level threats such as cruise missiles and attack helicopters. Swedish air force operations involving the legacy model also are conducted at a lower altitude, typically around 20,000ft.
"GlobalEye will provide Sweden with world-class airborne early warning and control capability," says Saab chief executive Micael Johansson.
"In addition to the military capability, GlobalEye can also be used for tasks supporting civilian society, for example by leading and coordinating rescue missions during natural disasters or larger accidents at sea or on land," Saab notes.
"S106, which becomes the armed forces' designation, is a further development of Saab's GlobalEye, adapted for Swedish defence tasks and international cooperation," the FMV says.
"Sweden has opted for a configuration to suit its operational context," says Saab. "We will not comment on the specifics of the configuration. But of course the Erieye ER radar is included, as well as electronic warfare systems and a command and control system."
NATO on 29 June approved requests to join the Alliance from Sweden and Finland – both submitted following Russia's late-February invasion of Ukraine.
"The accession of Finland and Sweden will make them safer, NATO stronger, and the Euro-Atlantic area more secure," it says. "The security of Finland and Sweden is of direct importance to the Alliance, including during the accession process," it adds.
Saab's other previous customer for the GlobalEye – the UAE – has received three examples of the type since April 2020, with another two on order.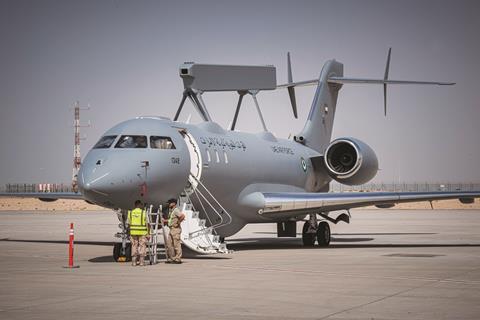 The Swedish company also had offered two GlobalEyes to Finland as part of its 64-aircraft Gripen E bid for Helsinki's HX fighter requirement, but lost out to the Lockheed Martin F-35A last December.
Story updated with Saab comment about Swedish system configuration.
Craig Hoyle joined Flight International in 2003, and has edited the now monthly title since 2015. He has reported on the UK, European and international military aviation sector for more than 25 years, and produces our annual World Air Forces directory.