The Swedish air force has taken delivery of its first G120TP basic trainers from Grob Aircraft, as it begins the process of replacing part of its veteran Saab 105 (SK60) fleet.
To be designated SK40s in Swedish service, the lead German-built G120TPs are among 10 on order for Stockholm. A handover ceremony was conducted at Malmen air base near Linkoping early this month, with attendees having included air force chief Major General Jonas Wikman.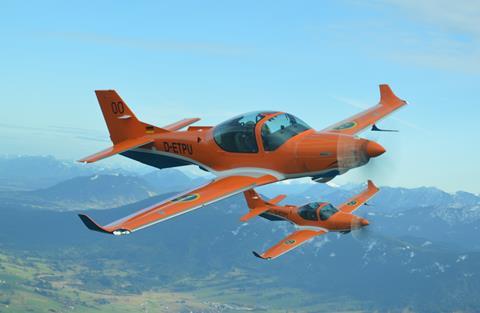 Sweden's FMV Defence Materiel Administration signed an order for seven of the turboprop-powered trainers in early 2021, and exercised a three-unit option last December.
"All 10 aircraft are expected to be commissioned in 2023," the FMV says. The procurement also includes a simulator, computer-based training equipment and a digital planning and debriefing system, along with personnel training. Grob Aircraft also will provide maintenance for the training system for an initial three-year period.
"The goal is for the education system to be ready to receive the first batch of pilot students in the summer of 2024," the FMV says, with this to follow the preparation of a training syllabus.
Modifications implemented to the G120TP to enable it to meet Swedish operational requirements have included enabling the trainer to fly into known icing conditions.
First flown in June 1963, the twin-engined Saab 105 jet trainer has been used by the Swedish air force since 1967. Cirium fleets data indicates that the service still has 46 examples of the SK60 in operation.
Sweden's first three G120TPs (registered 40198, 40199 and 40200) were handed over to the customer on 15 March 2023, Cirium records indicate.

Craig Hoyle joined Flight International in 2003, and has edited the now monthly title since 2015. He has reported on the UK, European and international military aviation sector for more than 25 years, and produces our annual World Air Forces directory.
View full Profile