The Swedish air force is poised to begin modernising its pilot training system, with the process from later this decade to involve the interim use of Saab Gripen C/Ds during advanced instruction phases.
Stockholm has employed the Saab 105 (Sk 60) for both basic and advanced/tactical training since 1986, but Colonel Torgny Falthammar, Gripen programme head at the nation's air staff organisation, says steps will be taken to replace the aged type.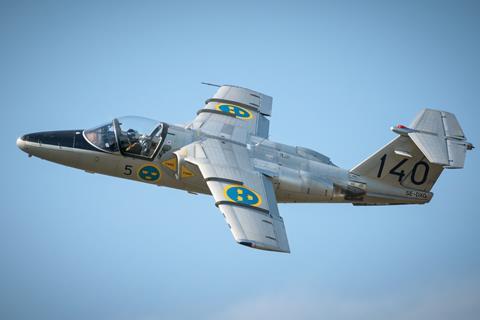 "We plan to continue using the Sk 60 for around five years, but are introducing a propeller aircraft to take care of the basic training needs," he said during Saab's annual Gripen seminar webcast on 26 March. No details have been disclosed about the intended new model, however.
"At the same time [around 2025], we are looking at a gap filler solution, where the Sk 60 as an advanced tactical trainer will be changed into using the [Gripen] Charlie/Delta version," Falthammar says.
This stop-gap use of Gripen C/Ds will be conducted as the Swedish air force progressively introduces a 60-strong fleet of new generation Gripen Es. The first examples of the new type will be assigned to operational squadrons from 2023, with a joint verification and validation campaign now under way.
"For the long-term, we are looking at introducing a new advanced trainer," Falthammar says. "But right now we are focusing on taking the first steps in introducing a new training concept – that means that we are procuring basic trainer aircraft."
He adds: "Introducing a new advanced trainer, where the [Boeing/Saab] T-7 may be one contender – it's too early for us. There are a number of years before we will need to do that evaluation and make that decision."
Cirium fleets data shows that Sweden still has 46 Saab 105s in active use, aged between 51 and 53 years. The type's only other operator is the Austrian air force, which employs 19 examples.
Meanwhile, a new Gripen training academy has begun operating at Satenas air base, under a joint initiative involving the armed forces, Saab and Sweden's FMV defence materiel administration.
Inaugurated in February, the facility will this year provide instruction for Swedish pilots, along with others from international operators Brazil, the Czech Republic and Hungary.
"We know that training is a key element when it comes to cooperating with customers," says Ellen Molin, head of Saab's support and services business area.