The US government has offered Switzerland the option to locally assemble four Lockheed Martin F-35As as part of a potentially 40-aircraft acquisition by the Alpine nation.
Switzerland's Armasuisse procurement agency on 18 November received responses to its second Air2030 request for proposals on behalf of four bidders for its new fighter aircraft requirement. Pegged at €6 billion ($7.1 billion), this will from 2030 replace an operational fleet of legacy Boeing F/A-18C/D Hornets and obsolete Northrop F-5 interceptors.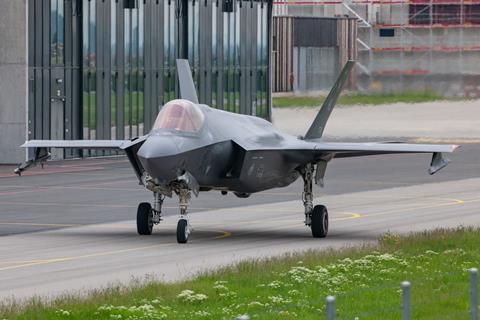 "With that, Armasuisse starts to work on the evaluation reports, which are planned to be completed in the first quarter of 2021," the nation's federal department for defence, civil protection and sport says. A type selection is anticipated during the second quarter of next year.
Washington submitted Foreign Military Sales programme offers based on 36 or 40 F-35As, and also on the F/A-18E/F Super Hornet, while Airbus Defence & Space delivered a response on behalf of the Eurofighter consortium. Dassault is pitching its Rafale for the requirement.
All four types underwent in-country evaluations at Payerne air base between April and June 2019.
Speaking on 19 November, Mike Kelley, Lockheed's managing director in Switzerland, said the submitted F-35A package includes 36-aircraft, plus associated training and sustainment services, along with "discrete pricing" for four additional examples, to be completed in the country.
In its request, Bern sought pricing information on 36 or 40 combat aircraft, and gave bidders an option to also propose add-ons intended to "enhance Swiss autonomy at an additional cost".
Kelley says that should Switzerland decide to host the final assembly of four aircraft, this would be conducted at RUAG's facilities in Emmen, using Swiss personnel. Also including systems installation and test activities, he notes: "It does have a significant cost to it".
"Switzerland has some very unique requirements for autonomy and sovereignty in operations," Kelley says. The experience gained from conducting in-country assembly of a portion of the fleet would boost the nation's ability to perform MRO activities over an expected 30-year-plus operational life, he adds.
But regardless of this decision, "For normal operations and maintenance, there will be no need for the aircraft to leave Switzerland," he says.
Also contained within the F-35 proposal is membership of Lockheed's global sustainment programme for the fifth-generation type, and a deployed spares package sufficient to support six months of normal operations.
Kelley says a "limited weapons package" will also be included with the sale. "That package is a little bit smaller than many people would expect, but that's because the existing inventory of munitions that the Swiss air force has for the Hornet fleet are by and large fully operational with the F-35," he notes.
"We believe that when fully evaluated by Armasuisse, it will be concluded that the entire 40-aircraft programme and all the other aspects will fit within the approved Swiss budget," Kelley says. Deliveries of Swiss F-35As would be made between 2027 and 2030.
All bidders were also required to provide information on direct and indirect industrial participation projects equating to 60% of the total programme cost.
Kelley says Lockheed has identified companies to work with in "all three language regions" of the country, including direct work on Swiss aircraft. The company is proposing to make Switzerland a "European centre" for F-35 transparencies and canopies, and the country would also perform MRO work on Pratt & Whitney F135 engines for its fleet. Lockheed currently has two suppliers in Switzerland, "mostly in the optical arena", Kelley says.
Lockheed is also proposing establishing a national cyber centre in Switzerland, "with a testbed for network environments".
Airbus, meanwhile, says that should it select the Eurofighter, "Switzerland will gain full autonomy in the use, maintenance and application of the data from its aircraft". The German government is supporting its campaign, offering "closer political, economic and security cooperation", and expanded training between the nations' air forces.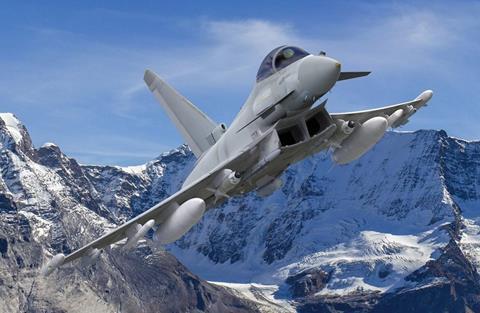 "By providing construction data and other important information, Switzerland will be given complete and independent control of the Eurofighter," asserts Airbus Defence & Space chief executive Dirk Hoke.
In late September, the Swiss government narrowly won a public referendum to advance the procurement of new fighters and ground-based air-defence equipment, with 50.1% voting in favour.