Taipei has given assurance that its Dassault Mirage 2000-5 fighters remain available for service, amid concerns about costs and sustainment for the two-decade-old fleet.
Defence ministry spokesman Sun Li-fang says that the fleet is meeting its "availability" and "mission capable" rate, according to a report in the official Focus Taiwan news channel.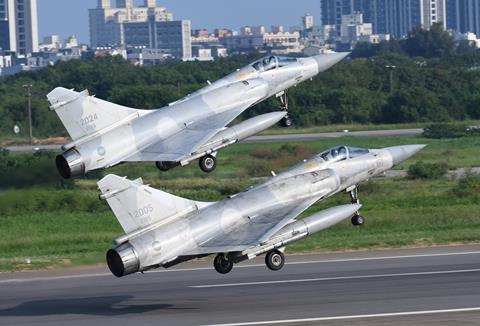 He declined, however, to state the exact readiness level of the force.
Sun made the remarks to reporters, who asked about local rumours suggesting that sustainment is a challenge for the Mirages. The report also mentioned a debate in defence circles that suggests the Mirage 2000-5s be retired given they cost more to operate than other fighters in the country's air force, namely the Lockheed Martin F-16 and the AIDC CK-1 Ching-kuo indigenous fighter.
Taipei ordered 60 Mirage 2000-5s in the 1990s, with the type entering service in 1997. Crashes have reduced the overall fleet to 54 examples, according to Focus Taiwan.
Daily aerial incursions by Chinese military aircraft have placed a spotlight on Taiwanese airpower, with Taipei's fighters scrambling daily to intercept Chinese fighter and patrol aircraft.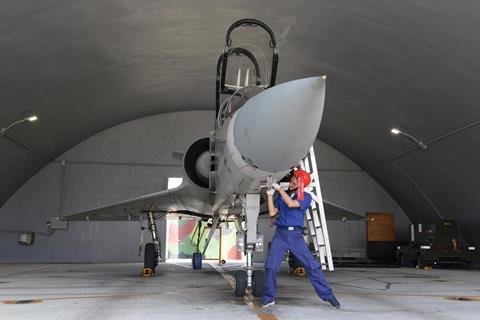 The country is in the process of upgrading 141 F-16s to the F-16V – also known as the Block 70/72 – standard.
Taipei also has outstanding orders for 66 F-16Vs. Deliveries of these aircraft have been delayed owing to supply chain issues at Lockheed. In late May, news agency Reuters quoted defence minister Chiu Kuo-cheng as saying that issues with the jet's flight control software were also a reason for delays.
Nonetheless, he reportedly told Taiwan's parliament that the full complement of 66 new F-16Vs will arrive by 2026.