Taiwan has commissioned Dassault Aviation to assess the viability of upgrading nine of the country's Mirage 2000-5 fighters.
The air force has budgeted NT$150 million ($4.75 million) for the assessment, which it expects to be completed by July 2026, according to report by the official Focus Taiwan news channel, citing a Republic of China Air Force statement.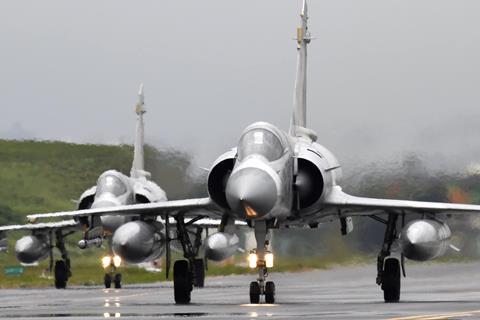 Should Taiwan go through with any upgrade work, it would see nine two-seat Mirage 2000-5s serve for another 20 years. It is envisaged that the jets will continue serving in combat roles and also be used for training purposes.
Taiwan operates 54 Mirage 2000-5s, having received a total of 60 examples in the 1990s. Six have been lost to accidents.
In June, defence ministry spokesman Sun Li-fang said that the Mirage fleet is meeting its "availability" and "mission capable" rate.
Sun made the remarks to reporters, who asked about local rumours suggesting that sustainment is a challenge for the Mirages. The report also mentioned a debate in defence circles that suggests the Mirage 2000-5s be retired given they cost more to operate than other fighters in the country's air force, namely the Lockheed Martin F-16 and the AIDC CK-1 Ching-kuo indigenous fighter.
Any Mirage upgrade work would likely require the blessings of Paris, which would have to assess the risks of angering Beijing, which claims Taiwan as its sovereign territory. China regularly vents outrage at US arms sales to Taiwan.