Taiwan has inaugurated a new maintenance centre for the Lockheed Martin F-16 fighter, which will improve local sustainment for the air force's fleet of the single-engined type.
The new centre is located in city of Taichung and will be run by local airframer AIDC, says the Republic of China Air Force. It will reduce maintenance turnarounds for the F-16, allowing local work on parts that otherwise may have to be returned to the USA for repairs.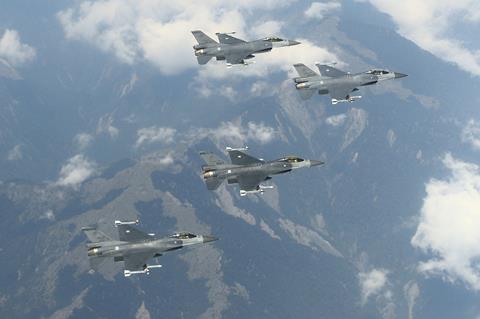 "The inauguration of this F-16 maintenance centre today will help strengthen our air force combat capabilities, and is also an important milestone in developing our national defence industries, spurring the internationalisation of Taiwan's aerospace industries," said Taiwan president Tsai Ing-wen at a ceremony to mark the centre's opening.
She reiterated that it is essential for Taiwan to maintain robust defence capabilities. "This new maintenance centre will significantly reduce maintenance time and increase fighter jet availability, ensuring air superiority on the front line of national defence."
In addition to improving sustainment, the centre will also provide over 600 jobs annually, and employ retired air force maintainers.
The F-16 is the mainstay of Taiwan's air force fleet against a China's increasingly powerful Peoples Liberation Army Air Force (PLAAF). Ultimately, Taipei will operate over 200 examples. At any moment, up to 40 will be undergoing maintenance work.
On 14 August, the US government approved a deal to sell Taipei 66 F-16C/D Block 72s. Taiwan is also upgrading 144 F-16A/B fighters to the F-16V standard, which is the equivalent of the F-16C/D Block 72 model. Lockheed has a major role in this work, which is being undertaken locally by AIDC.
Taiwan faces a clear military threat from China, which views the democratic island as a breakaway province. Taiwanese fighters are frequently called upon to intercept air patrols mounted by the PLAAF.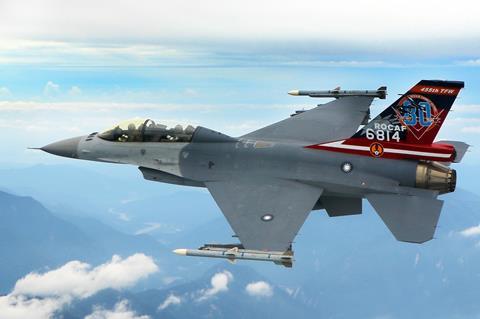 Separately, the Indonesian air force has rolled out the first pair of F-16A/Bs to have undergone Lockheed's "Falcon Star" mid-life upgrade, extending their service lives to 8,000h from 4,000h.
Two aircraft have received the upgrade. The first upgraded fighter, TS-1610, conducted a flight in February with a Lockheed pilot at the controls. A two-seat F-16B, TS-1601, has also received the upgrade.
In addition to extending the type's service life, the upgrade also updated the type's avionics and radar.
At the roll-out ceremony, a senior air force official added that the upgrade improves the type's capabilities in within- and beyond-visual range engagements.
Overall, 10 Indonesian F-16A/B Block 15 jets will receive the upgrade. Jakarta also operates 23 F-16C/Ds.