Taiwan has upgraded 18 Lockheed Martin F-16A/Bs to the new F-16V standard, and hopes to complete all 141 planned upgrades by 2023.
In addition, 66 new F-16Vs from a 2019 deal with the US government will be completed by 2026, according to a recent report by Taiwan's Central News Agency, quoting the Taiwanese military.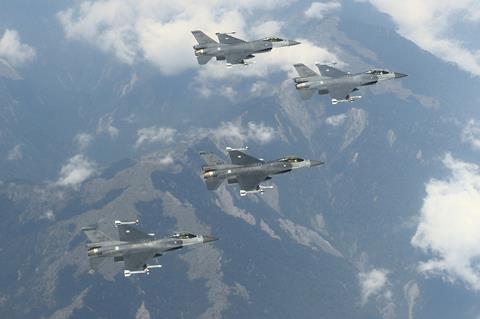 The work is being undertaken by local airframer AIDC with support from Lockheed. Taipei hopes to complete the upgrade work by 2023, a year later than originally planned.
The report adds that the Taiwan F-16V fleet will feature the Raytheon ALQ-184 electronic countermeasures pod, which is consistent with US Air Force equipment.
The upgrade affects the mission computer, airframe, cockpit instruments, and electronic warfare system. The jets will also receive an active electronically scanned array radar in the form of Northrop Grumman's Scalable Agile Beam Radar.
The project involves AIDC essentially installing a kit originally developed by Lockheed.
Taipei has an urgent need to upgrade its defence capabilities owing to increasing military pressure from China, which views the democratic island as a province.
Beijing, which has rapidly developed its military over the last decade, regularly mounts probing flights to test Taiwan's air defences.