The delivery of Lockheed Martin F-16Vs to Taiwan has slipped to the third quarter of 2024, with the US government reportedly citing supply chain issues for the delay.
According to media reports, the country's defence minister Chiu Kuo-cheng says that deliveries had been intended to start in late 2023, but the US government has pushed this back, citing supply chain issues related to the coronavirus pandemic.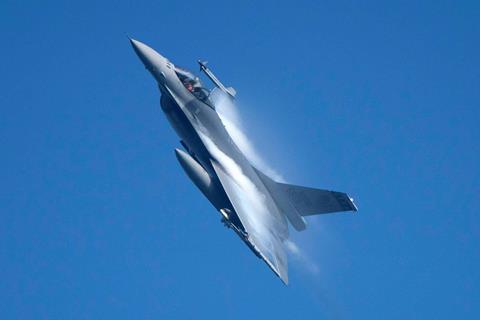 Taiwan ordered 66 F-16Vs in 2019. The country had sought to buy new fighters for nearly two decades, but both the George W Bush and Barack Obama administrations were eager to placate Beijing, which claims the democratically governed island as its own sovereign territory.
Chiu reportedly said that Taipei will receive no financial compensation for the delay.
Curiously, a Reuters report in January 2022, citing unnamed sources, suggested that the US side wanted to accelerate deliveries of Taiwan's F-16Vs, which at that time were slated for delivery in 2026. The report said that China's growing belligerence towards Taiwan was behind the idea of moving deliveries up.
Chiu adds that the USA continues to support Taiwan's existing fleet of 140 F-16s, which are being upgraded to the F-16V – also known as the Block 70/72 – standard.
Taiwan's new F-16Vs will be produced at Lockheed's Greenville, South Carolina factory, which completed its first F-16 Block 70 in January, with that aircraft earmarked for Bahrain. This marked the first new build F-16 since the closure of Lockheed's Fort Worth, Texas F-16 production capability in 2017.
Cirium fleets data suggests that Lockheed has a backlog for 127 F-16Vs, including Taiwan's 66-example order. Other countries with F-16V orders are Bulgaria (eight), Bahrain (15), Morocco (24), and Slovakia (14).
Separately, Hu Kai-hung, the chairman of Taiwanese aircraft manufacturer AIDC, reportedly said that the country is seeking US help to produce its next indigenous fighter aircraft – the company is in the process of undertaking Taiwan's F-16 upgrade programme.
"When it comes to the development of the next-generation fighter, we hope the United States supports Taiwan to develop it itself, including the engine, avionics, control systems, environmental controls and so on, which are all an opportunity for Taiwan-US cooperation," the Taipei Times reports him as saying.
Taiwan has been contemplating a new fighter for some time as a follow on to the CK-1 Ching-kuo indigenous fighter. The company has also produced the AT-5 Brave Eagle, an advanced jet trainer that had its first flight in 2020.