Taiwan has upgraded 42 Lockheed Martin F-16A/B fighters to the F-16V standard, according to a senior air force official.
Overall, 141 will be upgraded, and a formal handover to president Tsai Ing-Wen will be conducted at the end of March, according to a report by Taiwan's official news agency.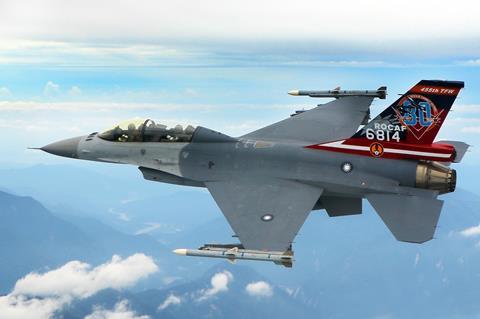 The report attributes the remarks to air force chief of staff Huang Chih-wei, who was responding to questions from Taiwan's lawmakers.
The work is being undertaken by local airframer AIDC with support from Lockheed. Taipei hopes to complete the upgrade work by 2023 – a year later than originally planned.
The upgrade affects the mission computer, airframe, cockpit instruments, and electronic warfare system. The jets will also receive an active electronically scanned array (AESA) radar in the form of Northrop Grumman's (APG-83) Scalable Agile Beam Radar.
The overall cost of the upgrade programme is pegged at NT$110 billion ($3.7 billion).
In addition, Taiwan has orders for 66 new F-16Vs stemming from a 2019 deal with the US government via the Foreign Military Sales process. Deliveries for this order are expected to run from 2023-2026.
Huang also touched on the impact of Beijing's constant reconnaissance flights against Taiwan, which is viewed as a rogue province. He said that in 2020 NT$30 billion was spent intercepting Chinese aircraft that entered the country's air defence identification zone, with NT$2.1 billion allocated for this work in 2021.
In addition to Taiwan, Singapore and South Korea are also undertaking major upgrades of their F-16 fleets, centred on the Northrop AESA radar and other improvements.