Taiwan paints a gloomy picture of North Asia's strategic environment, characterised by increased Chinese military pressure including improvements to the People's Liberation Army Air Force (PLAAF).
In its National Defense Report, Taiwan's Ministry of National Defense highlights the increasing rivalry between China and the USA, as well as the continued challenge to the region posed by North Korea.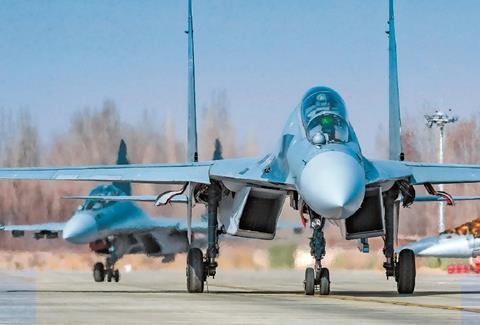 This has seen defence spending rise among the country's neighbours, with Taiwan boosting 2023 defence expenditure by 12.5% to NT$580.3 billion ($18.1 billion).
"The PRC is expanding military capabilities at scale and conducting military activities frequently in the region, mainly in the form of targeted military exercises and grey zone harassment and intrusions," says the report.
"Moreover, it is actively projecting air and maritime military power beyond the Taiwan Strait, the East China Sea, and the South China Sea, key areas in the west of the first island chain, by strengthening its anti-access and area denial (A2/AD) capabilities and increasing the size of its South Sea Fleet and formation of aircraft carriers to perform blue water voyages."
Taiwan continues to observe aerial incursions from China that test the reaction of Taiwanese forces and gather intelligence.
Taiwan says that the PLAAF is adding new capabilities in the form of next generation fighters and support aircraft. By 2035, Taiwan estimates that the PLAAF will be able to work jointly with the People's Liberation Army Navy to create a "denial capability" over the second island chain, which runs through the US territory of Guam in the Western Pacific.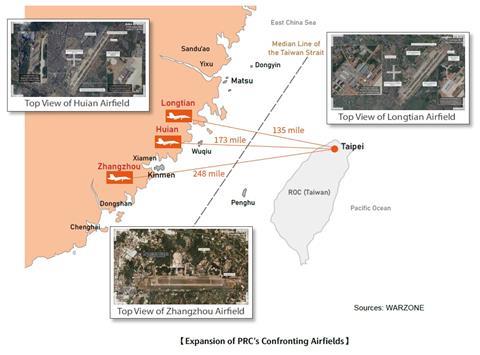 "The PLAAF is increasing the numbers and performance of its fighter jets, bombers, airborne early warning (AEW) platforms, cargo planes, aerial tankers, and UAVs and replacing obsolete ones so as to strengthen its air operational, early warning, and strategic projection capabilities," says the report.
"It is deploying indigenous HQ missile batteries and Russian-made S-300 and S-400 missile batteries at critical locations to form a tightened air defence net and continuing integrating and optimising its datalinks to improve the efficiency of its command, control, and communications."
Moreover, the PLAAF is improving its training, including through exercises with other countries, specifically Pakistan and Thailand.
China has also improved air bases along its southern and eastern coasts, which allow its combat aircraft and unmanned air vehicles to operate near Taiwan, "so as to grasp the whole picture of our activities and the electronic perimeters of our major weapon systems".
It provides a map illustrating the proximity of three PLAAF bases near Taiwan: Zhangzhou, Huian, and Longtian. These are well placed to mount incursions into Taiwan's Air Defense Identification Zone.
Incursions tend to rise sharply when Beijing is displeased with a major event involving Taiwan, such as the August 2022 visit of former US House Speaker Nancy Pelosi, or the April 2023 meeting between Taiwan president Tsai Ing-wen and US House Speaker Kevin McCarthy.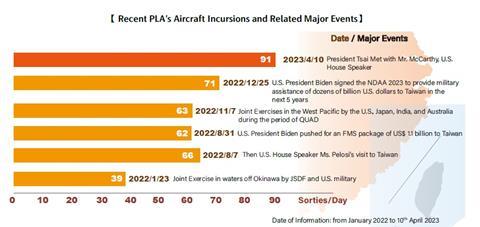 Taiwan, a self-governing democracy that is claimed by Beijing, contends that China's aerial forays are but one part of a broader coercion campaign.
Taiwan, for its part, continues to invest in defence capabilities, including the pending delivery of new Lockheed Martin F-16Vs, as well as major upgrade work for its existing F-16 fleet. The report, however, makes no mention about possible plans to upgrade nine of the country's Mirage 2000-5 fighters, which were disclosed in local media in late July.
Other planned acquisitions include the locally produced Chien Hsiang anti-radiation UAV, and the Wan Chien standoff munition, "to improve our capabilities to weaken and impede the enemy's operations".
Taiwan is also acquiring new advanced jet trainers, a reference to the Aerospace Industrial Development Corporation's T-5 Brave Eagle.