Taiwan's fleet of Northrop F-5E/Fs will receive Martin-Baker Mk16 ejection seats by the end of 2022.
The 70 seats, which Taipei acquired from the USA, will be fitted to 45 F-5E/Fs, reports the Focus Taiwan news portal, quoting remarks made by air force chief of staff Huang Chi-wei to Taiwanese legislators.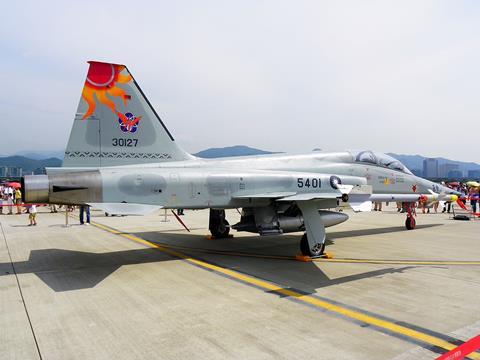 The report adds that investigations into the fatal collision of two F-5s on 22 March, and an earlier crash in October 2020, suggest that two pilots died from brain hemorrhages, which is consistent with their heads hitting the canopy when they were attempting to eject.
According to the Martin-Baker website, the Mk16 seat offers 'zero/zero' capability, in that pilots can safely eject even from stationary aircraft on the ground.
Separately, on 21 September Focus Taiwan quoted sources as saying that Taiwan is poised to commission its first wing of upgraded Lockheed Martin F-16Vs.
The Republic of China Air Force is undergoing a major modernisation to convert 141 F/-16A/Bs into the upgraded F-16V standard. The F-16V features the Northrop Grumman APG-83 active electronically scanned array radar, plus other upgrades.
According to Focus Taiwan's sources, 42 aircraft have been upgraded to the F-16V standard. All 141 aircraft are due to be upgraded by 2023.
In addition, 66 new-build F-16Vs from the USA are due to start arriving from 2023.
Taiwan's efforts to update its air force come amid increased belligerence from China, which considers the democratic island to be a breakaway province. Beijing has kept open the option of using military power to forcibly subdue Taiwan.
China continues to mount aerial probes against Taiwan's airspace with combinations of strike and support aircraft. On most days these intrusions comprise a handful of aircraft, but on 23 September Beijing sent 24 aircraft to probe the island.