The UK Ministry of Defence (MoD) has kicked off the next stage of its Future Combat Air System (FCAS) programme, awarding a £250 million ($350 million) contract to Team Tempest to lead the definition and initial design phase activity.
Marking a formal start to the concept and assessment phase, the contract will see the Team Tempest partners – BAE Systems, Rolls-Royce and the UK divisions of Leonardo and MBDA – develop a range of digital concepts for the various parts of the FCAS.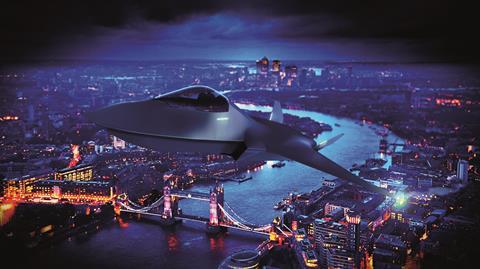 These will cover the manned Tempest fighter, uncrewed aircraft, and the broader system of systems that will enable the next-generation capability for the Royal Air Force. Service entry is scheduled for the mid-2030s.
"The funding announced today marks a critical next step for the programme and, with our partners, we will work together to define the technical and capability requirements and develop the concept which will bring Tempest to life," says Chris Boardman, group managing director of BAE's Air unit.
In addition, the effort will incorporate new digital design and manufacturing techniques, says the company, including reaching into its supply chain "to drive digital transformation".
Announcing the contract award at BAE's Warton site, defence secretary Ben Wallace describes the investment as a "momentous step".
"Boosting our already world-leading [aerospace] industry, the contract will sustain thousands of jobs across the UK and will ensure that the UK remains at the top table when it comes to combat air,"  he says.
Although a UK-led effort, the Tempest programme will also see the involvement of partners Italy and Sweden following the signature of a memorandum of understanding last year.
But that international collaboration is also likely to include Japan in the future after Wallace and his Japanese counterpart Nobuo Kishi agreed to accelerate discussions between the two nations on developing subsystems for a FCAS.
The collaboration between London and Tokyo relates to their Tempest and F-X fighter programmes, and includes "intensifying efforts to explore working together on power and propulsion".
The UK is "open to welcoming other partners on board", says the MoD.