Thales has unveiled the AirMaster C, a new version of its active electronically scanned array (AESA) airborne surveillance radar that combines a smaller footprint with several advances in technology.
Designed for integration on smaller platforms – the C stands for compact – Thales believes the sensor can bring high levels of performance at a comparable price point to current systems.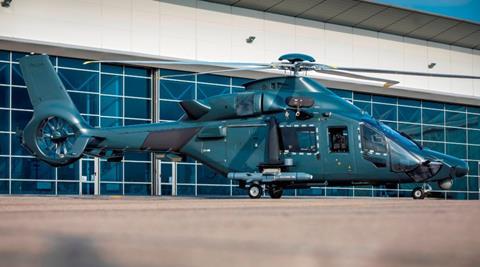 "I believe today we have realised some breakthroughs… I would say that this radar has no competitor for the time being," says Francois Arpagaus, head of the airborne surveillance product line at Thales.
Weighing under 20kg (44lb), the AirMaster C offers 120° of coverage, and can be configured as a single or multi-panel unit, depending on the requirement.
While still under development, the radar has passed through "some major milestones", says Arpagaus, including validation of its core silicon-germanium antenna technology.
Arpagaus says the design is finalised, with the programme now moving to the "procurement and preparation of prototypes". Laboratory testing, flight trials and qualification of the system will now follow.
So far the only confirmed application for the AirMaster C is aboard the Airbus Helicopters H160M Guepard being developed for the French armed forces, which is due to enter service in 2026. Although no firm contract is in place, the radar is the subject of "preparatory studies" to ready its integration on the 6t-class rotorcraft.
However, Thales says the radar will be suitable for fixed- or rotary-wing platforms, including unmanned air vehicles, such as the Airbus Helicopters VSR700.
Market research carried out by the manufacturer revealed that operators want a compact radar that offers reliability, ease of use – especially where there is no dedicated operative aboard the aircraft – and which delivers improved intelligence.
Thales says that the significant levels of processing capability and artificial intelligence embedded in the AirMaster C will bring greatly improved operation, allowing customers to "see more, more of the time". The AESA system will also improve reliability, it claims.