Tokyo has dedicated Y57.6 billion ($557 million) to the developmental F-X fighter in its next financial year starting 1 April 2021, as well as earmarking funds for a range of other aircraft.
The commitments are part of a record Y5.34 trillion defence budget, which has a clear focus on countering military advances in China.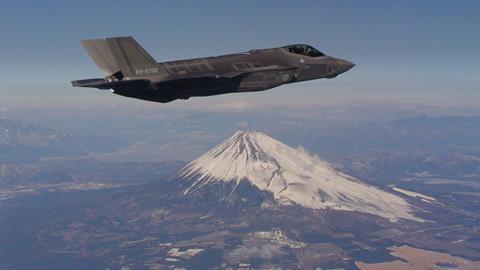 The Y57.6 billion for the F-X programme will be invested in continued design work, including engine design, according to the country's defence budget document for the FY2021 financial year.
In addition, Y4.9 billion will be earmarked to develop the F-X's mission system, and Y1.5 billion for research into unmanned combat air vehicles that are envisaged as operating alongside the F-X.
Finally, Y4.1 billion is being dedicated to a joint research effort between Japan and the UK that is exploring advanced radar technology.
Tokyo recently disclosed that it has selected Lockheed Martin to work with the F-X's prime contractor, Mitsubishi Heavy Industries, on the ambitious programme.
Japan Military Aircraft Acquisitions
Aircraft type
Role
FY2020*
FY2021**
Bell Subaru UH-2
Utility transport
0
7
Boeing Subaru CH-47JA
Utility transport
3
0
Kawasaki P-1
Maritime Patrol
3
3
Shinmaywa US-2
Long-range rescue
0
1
Sikorsky SH-60K
Maritime Patrol Helicopter
0
7
Lockheed Martin F-35A
Multi-role fighter
3
4
Lockheed Martin F-35B
Multi-role fighter
6
2
Kawasaki C-2
Strategic transport
0
1
Boeing KC-46A
Tanker/Transport
4
0
Sikorsky UH-60J
Rescue helicopter
3
5
*1 April 2019 to 31 March 2020
**1 April 2021 to 31 March 2022
Source: Japan Ministry of Defence
The budget also allocates funding for four Lockheed F-35As and a pair of the short take-off and vertical landing (STOVL) F-35Bs.
Overall, Tokyo has an outstanding requirement for a total of 147 F-35s, of which 42 will likely be F-35Bs. These will operate from a pair of Izumo-class helicopter destroyers, which are being converted to aircraft carriers.
In addition, Tokyo will continue working on a stand-off electronic warfare aircraft. In July, its defence white paper contained a conceptual image of a Kawasaki C-2 transport with equipment fairings as well as a heavily modified nose and tail, with the caption "stand-off electronic warfare" system.
In 2018, it emerged that Japan had modified a C-2 for experimental work as an EW platform.
The budget also contained funds for work related to enhancing and servicing legacy types in service with the Japanese defence forces.