Tokyo could be close to making some partnership decisions in its long-running effort to develop an indigenous replacement for the Mitsubishi F-2.
Japan's Acquisition, Technology & Logistics Agency (ATLA) says that it is still looking at working with the UK and the USA on the programme. As the 2020s unfold, the development of the Future Fighter, tentatively designated F-3, will coincide with the UK's international Tempest effort, as well as US efforts to develop so-called "sixth-generation" capabilities.
"As for the schedule for the decision, we would like to decide the basic framework of development partners by the time the draft budget for JFY2021 is approved by the Japanese cabinet," says ATLA.
Japan's 2021 fiscal year will run from 1 April 2021.
Washington DC, which has extensive defence links with Tokyo, is clearly interested in the programme. In February, US Air Force official Kelli Seybolt told FlightGlobal that interoperability with US forces is a primary American concern in the programme. ATLA too has stressed that interoperability with allies is a key requirement.
However, earlier this year, ATLA confirmed that the Future Fighter will be an all new, clean-sheet design.
This ruled out a previous proposal from Lockheed Martin that would have called for a heavily updated version of the F-22, but using technologies found in the F-35.
A report from the Mitchell Institute in late 2019 suggested that the Future Fighter could be based on the FB-22 concept, a regional bomber version of the F-22 that would have boasted a large internal payload. A heavy missile load and long endurance are understood to be key considerations for the Japanese programme.
In addition, Tokyo has expended significant resources developing technologies for the programme. In addition to the X-2 technology demonstrator, which flew 34 sorties in 2016-2017, there were 14 additional programmes looking at specific technologies such as weapons bays, sensors, data links, and other areas deemed necessary for an advanced fighter.
IHI has also produced the experimental XF9-1 engine for laboratory work related to the programme.
Douglas Barrie, senior fellow for Military Aerospace with the International Institute for Strategic Studies in London, says the fighter will need to have a very low-observable radar cross section from some aspects, with long range and a large internal payload. A modular systems architecture that allows for easier upgrading of software is also essential.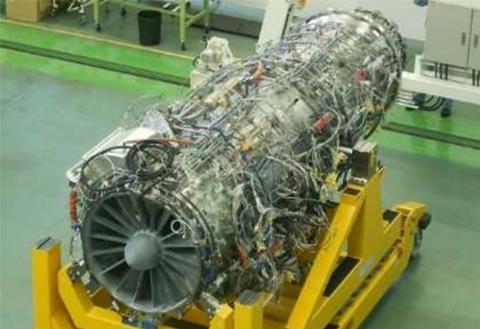 Tokyo will also place a premium on the Future Fighter's ability to work with teams of unmanned aircraft. The capability to command teams of unmanned combat air vehicles will be baked into the Future Fighter's design, with manned-unmanned teaming eyed in the 2030s.
"We recognise that technologies related to unmanned air vehicles using [artificial intelligence] are rapidly developing, and various unmanned equipment is being used internationally. We will have enough growth potential to accommodate advanced technologies such as manned-unmanned teaming accordingly as technologies mature," says ATLA.
Teal Group analyst Richard Aboulafia says that today's emerging fighter developments will see a human in the cockpit, but that a major requirement will be the ability to work with unmanned systems.