The Japan Air Self-Defense Force (JASDF) has received an upgraded Boeing E-767 Airborne Warning and Control System (AWACS) aircraft from the US Air Force (USAF).
A team at Hanscom AFB in Massachusetts conducted the mission computing upgrade (MCU), according to the USAF.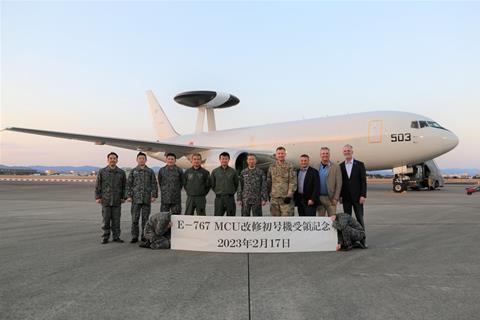 "Japan is a critical partner of the United States in the Indo-Pacific Command theatre and the E-767 is the premier airborne battle management command and control node for the JASDF," says Colonel Riley Pyles, head of the USAF's Digital Directorate.
"If hostilities break out, we'll want it flying just as much as they do."
Pyle adds that Tokyo has been "intensely focused" on getting the first MCU upgrade aircraft back into service owing to "frequent incursions by Chinese and Russian aircraft and unmanned systems into Japanese airspace."
In addition to the upgraded aircraft, the team also supplied ground systems to "several Japanese air bases for mission planning and training".
The MCU is similar to upgrade work undertaken on Boeing E-3 Sentry AWACS aircraft operated by the USAF, improving capabilities such as command and control, real-time information sharing, faster target identification times, and improved lethality.
The MCU installation work commenced in August 2019 as part of an $870 million contract. Flight testing and demonstrations took place in California and Washington state.
A follow-on JASDF E-767 is now receiving the MCU upgrade.
Cirium fleets data shows that the JASDF operates four E-767s, with an average age of 27.5 years.