Tokyo is studying options to succeed two Japan Air Self-Defense Force (JASDF) trainers, the Fuji T-7 basic trainer and the Kawasaki T-4 intermediate jet trainer.
In July, Japan's Ministry of Defence (JMOD) issued a request for tenders (RFT) to companies, seeking information about potential replacements for both types.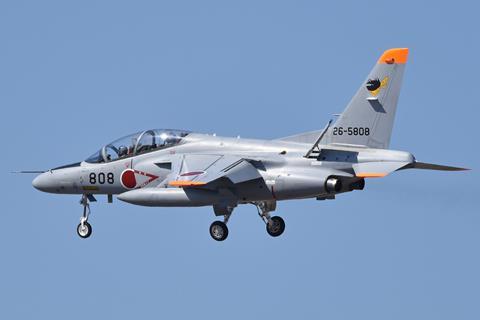 "Since it is necessary to take in account of how the role of the T-7 successor would be shared with T-4 and its own successor, an RFT for [the] T-4 successor was also released," says Tokyo's Acquisition, Technology & Logistics Agency (ATLA).
"However this process is intended only for JMOD to gather necessary information for consideration, and is not intended for soliciting companies to participate in bidding."
The deadline for responses was 4 August, and the defence ministry subsequently issued a request for information (RFI) to companies that "satisfied participation requirements".
"This RFI was issued with the intent to receive information from companies with expertise in manufacturing or sale of trainer aircraft and ground-based training systems, for the purpose of considering future approaches to effectively and efficiently acquire trainer aircraft," it adds.
"As of now, JMOD does not have concrete acquisition plans for trainers, including whether to acquire the system through indigenous acquisition or through suppliers from overseas. JMOD will make decisions, taking into account the assessment of RFI responses."
ATLA did not name the companies it tapped for information, but Japanese firms such as Mitsubishi Heavy Industries, Kawasaki, Shinmaywa, and Subaru (formerly Fuji Heavy Industries) have extensive aerospace experience, including the development of indigenous types.
For jet trainers, international options could include the Boeing T-7A Red Hawk, the Leonardo M-346, and possibly the Korea Aerospace Industries (KAI) T-50 – although sometimes testy diplomatic ties between Seoul and Tokyo would likely rule out the South Korean type.
The Beechcraft T-6 Texan II, Pilatus PC-21, and KAI KT-1 are potential international options for any T-7 replacement.
Any programme to replace Tokyo's T-4 and T-7 trainer fleets would call for significant numbers of airframes. Cirium fleets data shows that the JASDF operates 200 T-4s and 49 T-7s.
The 1980s-era T-4 is powered by two IHI F3-IHI-30 turbofans, and the in-service fleet as an average age of 27.1 years. The type is also operated by the JASDF's Blue Impulse aerobatics team.
The T-7, meanwhile, is powered by a single Rolls-Royce 250-B17F turboprop, and the average age of the in-service fleet is 16.3 years.