The Tupolev Tu-160M strategic bomber has conducted its first flight using updated United Engine Corporation NK-32-02 engines.
The flight lasted for 2h 20min and the aircraft reached an altitude of 19,700ft, according to Russian defence holding company Rostec.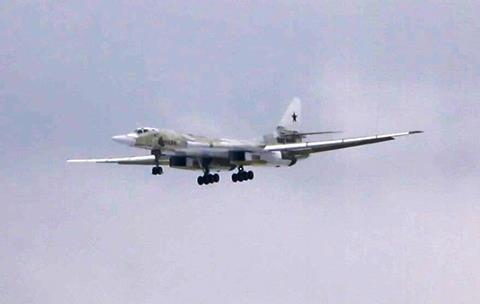 A number of checks were performed during the flight, including the performance of the updated engines.
"The first experimental Tu-160M was created as part of a large-scale modernisation programme for combat aircraft systems of strategic and long-range aviation, which is currently being carried out by Tupolev," says Rostec.
"The first flight of the first prototype aircraft took place on February 2 this year."
Powered by four NK-32s, The Tu-160 is the world's largest bomber, with two weapons bays that can accommodate 45,000kg (99,200lb) of ordnance, with the main payload being 12 Raduga KH-101/102 air-launched cruise missiles; a weapon type in service with Russia since 2013.
Russia is in the process of remanufacturing its small fleet of Tu-160s with new avionics and engines. In December 2018, TASS reported that an upgraded Tu-160 had test fired a salvo of 12 KH-101s at Russia's Pemboi practice range.
In a February 2019 blog entry, Douglas Barrie of the International Institute of Strategic Studies offered an analysis of the test, noting that the weapon may have a range of about 2,160nm (4,000km).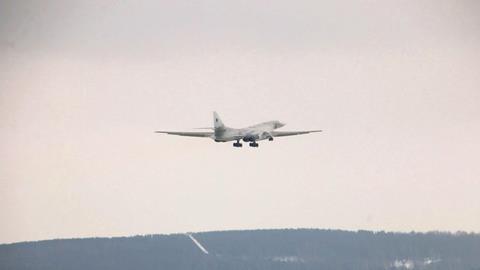 "If the missile does have a 4,000km range, even the basic Kh-101 would allow the [Tu-160] to remain deep within Russian airspace and still be able to strike any target in Europe," he wrote.
"An aircraft simply in a 'race-track' pattern above Engels air-force base in central Russia, where the Tu-160 is located as part of the 121st Heavy Bomber Aviation Regiment, puts most of Europe, barring southwestern Spain, within range."
Operating deep within national aerospace would also reduce risks for the aircraft, and allow for "a comparatively quick reload and turn around", he wrote.