Tunisia's air force has received its eighth and final T-6C Texan II trainer from Textron Aviation Defense, with the asset now operational with its 13 Sqn at Sfax air base.
"It's an honour to celebrate the induction of the Beechcraft T-6C into Tunisian air force pilot production," says Brett Pierson, chief executive of Textron Aviation Defense.
The Tunisian air force took receipt of its first turboprop-powered T-6C in November 2022 via a Foreign Military Sales-programme deal with Washington DC. Its assets are registered Y22081-084 and Y23085-088, Cirium fleets data shows.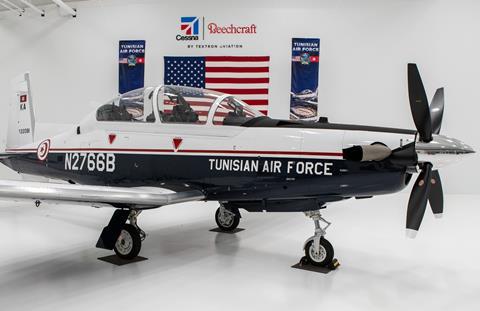 "Tunisia plays an important role in ensuring not only its own national security but also that of northern Africa and the continent as a whole," the USA's ambassador to the country, Joey Hood, said during a ceremony marking the induction of its first four T-6Cs on 17 July.
Cirium data shows that the Tunisian air force operates a frontline fleet of 10 Northrop F-5E fighters.

Craig Hoyle joined Flight International in 2003, and has edited the now monthly title since 2015. He has reported on the UK, European and international military aviation sector for more than 25 years, and produces our annual World Air Forces directory.
View full Profile