Tunisia has received its first of eight Beechcraft T-6C trainers, making it the second African nation to field the turboprop-powered type.
Textron Aviation Defense announced the milestone on 8 November. The aircraft has been transferred to the Tunisian air force's Sfax air base, for use by the service's 13 Sqn, it says.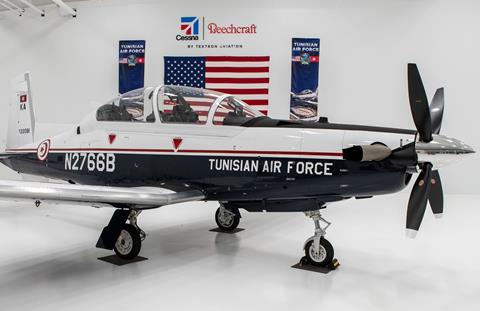 The company expects the nation's second aircraft to be transferred late this year, with the remainder "slated for delivery in 2023".
Training of an initial cadre of Tunisian air force pilots began at Textron's Wichita, Kansas site on 31 October. Also included in the Foreign Military Sales programme deal are spare parts, spare engines and support equipment, plus a suite of ground-based training devices being supplied by TRU Simulation + Training.
"Becoming a regional leader in military flight training excellence is one of the milestones on the path to achieving our counter-terrorism and border security mission requirements," says Tunisian air force chief of staff General Mohamed Hajjem.
He notes that in addition to boosting "territorial sovereignty and regional stability", the acquisition "paves the way for additional bilateral engagements, and strengthens our relationship with the United States".
Tunisia, which follows Morocco (with 24 T-6Cs) in fielding the type, previously also expressed interest in potentially acquiring the armed AT-6C Wolverine.
Meanwhile, the lead Tunisian aircraft is the 1,001st example of the T-6 to have been delivered, to a total of 13 nations, the airframer says.

Craig Hoyle joined Flight International in 2003, and has edited the now monthly title since 2015. He has reported on the UK, European and international military aviation sector for more than 25 years, and produces our annual World Air Forces directory.
View full Profile