The Turkish Aerospace (TAI) developmental Kaan fighter appears to be gaining international traction, with Pakistan likely to follow Azerbaijan in exploring participation in the effort.
In a 14 August tweet, Turkish defence minister Yasar Guler indicates that Pakistan is poised to sign up to the programme.
Guler's statement follows previous remarks from Turkish officials that Islamabad is interested in Kaan.
Should Islamabad become involved with the new Turkish fighter, it could become its second international fighter partnership, following its collaboration with Beijing on the Chengdu/Pakistan Aeronautical Complex JF-17.
Pakistan's apparent interest in the Kaan programme comes just weeks after Baku signed a protocol with Ankara to explore involvement in the programme.
"With the protocol, it is aimed to determine the working procedures and principles of cooperation with Azerbaijan on joint production issues, including the development activities of the 5th-generation national combat aircraft Kaan, which is being developed for the Turkish air force," according to Turkey's Defence Industry Agency.
"The protocol also aims to identify and evaluate the capabilities established in Azerbaijan, to make production preparations at the appropriately evaluated facilities and/or companies, to develop production capabilities and to share experience within the scope of the Kaan project."
Following meetings and mutual visits, the agency holds up the possibility that some Kaan subsystems could be produced in Azerbaijan.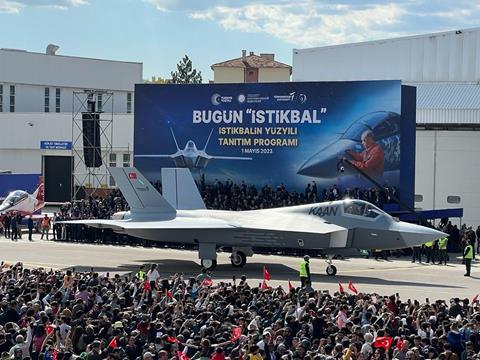 Azerbaijan and Turkey already have a deal under which TAI is upgrading Baku's Sukhoi Su-25 fleet to a new Su-25ML standard, capable of deploying Turkish smart weapons.
At the Paris air show in June, TAI chief executive Temel Kotil said that by 2028 the company aims to deliver 20 Kaan fighters to the Turkish air force in an initial Block 10 configuration. As the programme matures, subsequent deliveries will be in a new Block 20 standard.
The Kaan is powered by a pair of GE Aerospace F110 engines, but the company is "working on" an indigenous powerplant for the type. A first flight is planned before the end of 2023.
Pakistani involvement in the Kaan programme could raise questions about its future collaboration with Beijing on advanced fighters, with the JF-17 is pitched as a basic, affordable fighter for air forces in the developing world.
Pakistan is also the first export customer for China's single-engined Chengdu J-10C, a type analogous to the Lockheed Martin F-16.