Russia's United Aircraft (UAC) is to build four prototypes of the Sukhoi Su-75 Checkmate single-engined fighter, as it continues production of the twin-engined Su-57.
UAC chief executive Yuri Slyusar revealed the plan to build four prototypes at Russia's Army 2022 event, according to Russian news agency TASS.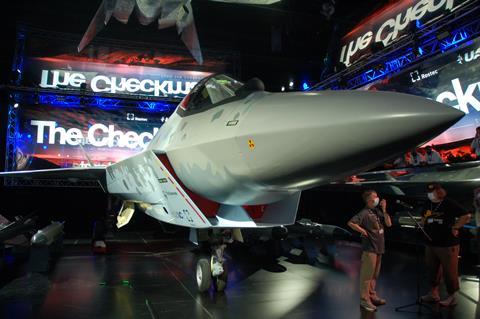 "We use advanced super-computer technologies in the Checkmate project, which enables us to cut substantially the timeframe of building the prototype and begin the flight tests already in 2024," he says.
"Now preparations have been launched for the production of two prototypes. In all, we plan to build four prototypes."
At its launch at Russia's MAKS air show in July 2021, Slyusar had said the first flight would take place in 2023. Production is intended to start in 2027.
A separate report carried by the RIA Novosti agency quotes Russian defence official Dmitry Shugaev as saying that the country is willing not only to export the Su-75, but also to establish joint production with international partners. The type is planned as an affordable fifth-generation fighter.
Slyusar adds that four additional Su-57s have been built under a defence ministry contract. According to TASS, Russia's military will have a total of 22 examples of the stealthy type by late 2024, with this to rise to 76 by 2028.
In addition, UAC and Russia's defence ministry signed an agreement for delivery of an unspecified number of Su-34 fighter bombers.
The Su-34 acquisition could be to replace aircraft lost since Russia invaded Ukraine on 24 February. While the exact number is impossible to confirm, Russia has possibly lost over 100 fixed-wing aircraft during the conflict.
On 9 August, an attack on a Russian base in the Crimea is estimated to have destroyed nine to 10 aircraft, including Su-24s and possibly Su-34s.
Similarly, Moscow ordered at the event undisclosed quantities of Kamov Ka-52M and Mil Mi-28NM attack helicopters, again likely to replace assets lost during the war with Ukraine.
Russian Helicopters also used Army 2022 to unveil its BAS-750 unmanned helicopter, which has a maximum take-off weight of 750kg (1,650lb), and a payload of 200kg. Endurance is a claimed 6h, and the system can transmit data up to 81nm (150km).
BAS-750 missions include search and rescue, cartography, and the monitoring of key installations.