Russia's United Aircraft (UAC) plans to develop a virtual reality (VR) simulator to train maintenance personnel on the Sukhoi Su-35 and Su-57 fighters.
The system will comprise a helmet, hand controllers and software theat creates a detailed digital rendering of the two aircraft, says UAC.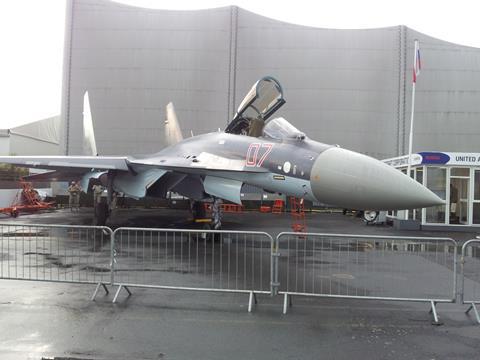 "Rostec pays great attention to improving the after-sales service of aircraft," says Vladimir Artyakov, first deputy general director of Rostec State Corporation, UAC's parent company. "The new VR simulator will allow aircraft technicians to gain enhanced practical skills."
Testing will be completed by the end of 2022. The system can be bundled with new aircraft acquisitions, or sold separately.
It is envisaged that the VR system will reduce both the costs and time involved with maintenance work.
Separately, in December 2021 UAC revealed its developmental S-70 Okhotnik, or "Hunter" unmanned combat air vehicle (UCAV) with a "flat nozzle", which it says will reduce the vehicle's radar cross section. Previous versions of the delta-winged UCAV featured a standard round engine exhaust nozzle.
In addition, the S-70 is to receive a new ground control station. The S-70 is envisaged as one day operating as a "loyal wingman" to the Su-57.
"The S-70 is a promising aviation platform with great potential for developing a family of unmanned systems of the future on its basis," says Yuri Slusar, president of UAC.
"Work under the Okhotnik programme is one of the key areas for Sukhoi and UAC. The development of the unmanned direction fully meets the challenges of the time and the needs of the customer. Today, we are making every effort to complete testing and enter mass production as soon as possible."