MBDA secured record orders worth €9 billion ($9.6 billion) last year, including an "extraordinary" armaments package linked to the United Arab Emirates' contract for 80 Dassault Rafale combat aircraft.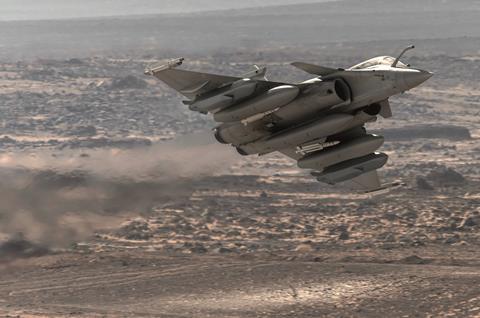 Outlining the company's financial performance for 2022 on 15 March, chief executive Eric Beranger also referenced a Rafale-associated weapons deal with Greece as contributing to its strong performance – which marked an increase from €5.1 billion the previous year. However, he notes that the war in Ukraine has so far had an "extremely marginal" effect on its order intake.
"The conflict in Ukraine acted as a wake-up call for the European countries – a wake-up call that led to a strong demand for armaments," he notes.
"We see a demand that is increasing everywhere in the world, including in Europe," he says. "We see declarations from the governments, so it would sound logical that in 2023 there will be an impact [on orders]."
Beranger says increasing emphasis is being placed on the development of advanced air-defence system equipment, pointing to the use of "hypersonics, drones and loitering munitions" by Russian forces during the Ukraine conflict.
He notes that MBDA has faced supply chain constraints since the pandemic, with some components now having a 24-month lead time, meaning that the company must stockpile effectively as it ramps up output. "This is something we are managing extremely precisely," he says.
To support its increasing workload, MBDA recruited almost 1,600 new employees last year, and will add another 2,000 in 2023.
Turnover last year totalled €4.2 billion – the same as in 2021, while MBDA ended 2022 with an order backlog valued at €22.3 billion, up from €17.8 billion 12 months earlier.

Craig Hoyle joined Flight International in 2003, and has edited the now monthly title since 2015. He has reported on the UK, European and international military aviation sector for more than 25 years, and produces our annual World Air Forces directory.
View full Profile