The United Arab Emirates (UAE) has exercised an option to acquire a further pair of GlobalEye surveillance aircraft from Saab.
Announcing the deal on 4 January, the Swedish company said the business is valued at just over $1 billion. A contract was signed on 30 December 2020, with the work to be performed by 2025.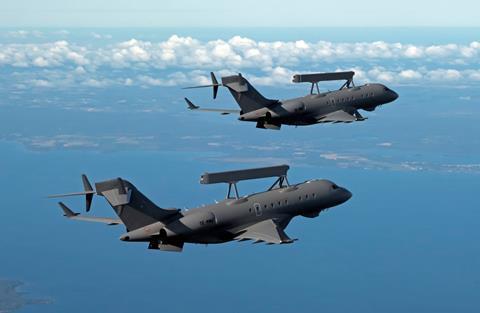 Saab received an originally two-aircraft contract from the UAE in November 2015, with the customer later ordering a third example. It announced its intention to further increase the fleet to five aircraft during the Dubai air show in November 2019.
"We are proud that the United Arab Emirates continues to show great trust in Saab and our solutions," says chief executive Micael Johansson. "The GlobalEye programme is running according to plan, and we have an efficient cooperation with the customer," he adds.
Saab says work will be performed at its sites in Arboga, Gothenburg, Jarfalla, Linkoping and Lulea in Sweden, and in Centurion, South Africa.
The UAE received its first Bombardier Global 6000-based GlobalEye in April 2020, with a second having followed last September. The type is equipped with a suite of sensors which enable it to simultaneously perform surveillance of airborne, maritime and ground-based threats.
Saab's swing-role surveillance system is also currently being offered to Finland, as part of the nation's HX fighter contest. Johansson late last year told FlightGlobal that the company is eyeing further prospects in the Asia-Pacific region and Europe, including a potential emerging requirement for the Swedish air force.