The UK Ministry of Defence (MoD) has pledged to deliver future training to Ukrainian air force fighter pilots, although its commitment stops short of any transfer of combat aircraft to Kyiv.
Announced on 8 February, the move was detailed as Ukrainian President Volodymyr Zelensky paid a surprise visit to the UK, arriving aboard a Royal Air Force (RAF) Boeing C-17 strategic transport.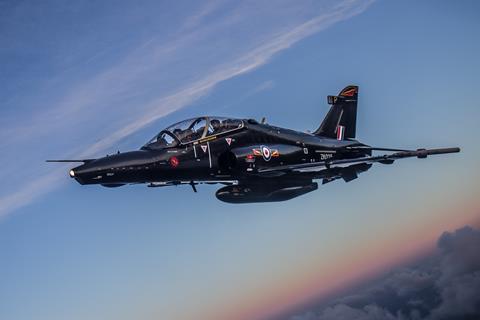 During a meeting, UK Prime Minister Rishi Sunak pledged to "bolster the UK's training offer for Ukrainian troops, including expanding it to fighter jet pilots to ensure Ukraine can defend its skies well into the future".
"The training will ensure pilots are able to fly sophisticated NATO-standard fighter jets in the future," the MoD says, without providing further details of the arrangement or its start date. "As part of that long-term capability investment, the UK will work with Ukraine and international allies to coordinate collective support to meet Ukraine's defensive needs," it adds.
Training assets operated by the RAF include Beechcraft T-6C turboprops and BAE Systems Hawk T2 jets.
In a subsequent address delivered in the House of Commons, Zelensky urged Ukraine's allies to "do everything to provide our pilots with modern planes".
"Every air force pilot is a king – they are so few, they are so precious," he says. Zelensky also presented speaker of the House of Commons Sir Lindsay Hoyle with a helmet used by a Ukrainian air force fighter ace, inscribed with the words 'We have freedom – give us wings to protect it'.
The Ukrainian air force's inventory totalled a combined 97 Soviet-era combat aircraft prior to Russia's February 2022 invasion of the country. This included RAC MiG-29 and Sukhoi Su-27 fighters, plus Su-24 and Su-25 ground-attack aircraft. It is unknown how many remain in operational use.
Poland has previously touted a proposal to supply Kyiv with surplus MiG-29s, although the NATO Alliance opposed any such transfer, amid concern that it could serve to escalate the conflict. Additional nations have also suggested that Ukraine could be equipped with used Lockheed Martin F-16s.
Zelensky's call for the provision of modern combat aircraft came just weeks after multiple NATO nations pledged to supply Kyiv with advanced main battle tanks, including British Army Challenger 2s.

Craig Hoyle joined Flight International in 2003, and has edited the now monthly title since 2015. He has reported on the UK, European and international military aviation sector for more than 25 years, and produces our annual World Air Forces directory.
View full Profile