The UK-led Typhoon proposal being prepared for Finland's HX contest pledges to add the nation to the Eurofighter industry consortium, while offering in-country final assembly, engine production and sovereign control over mission data.
Speaking during a 31 March media briefing outlining the campaign's key points, UK minister for defence procurement Jeremy Quin said the four-nation Eurofighter group discussed Helsinki's potential inclusion during a meeting earlier in the month.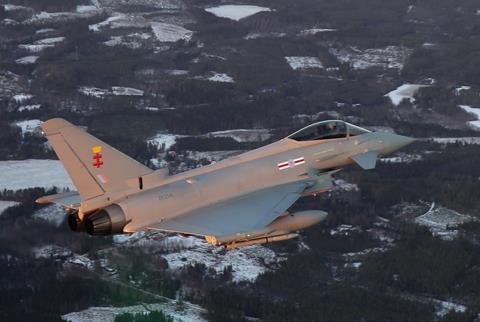 "My counterparts from Germany, Italy and Spain would like you on board as well," Quin says. "We discussed the prospect that Finland could soon join us, and how to ensure Finland is part of decision making within the partnership.
"We agree that they [Finnish companies] add a clear value-enhancing path to build capability and grow our technological edge," he adds.
Andrea Thompson, BAE Systems' managing director Europe and international, says the Eurofighter proposal includes more than 70 work packages, which would be established with over 100 Finnish companies. Final assembly will also be offered when the UK delivers its response to Helsinki's request for best and final offers, which are due to be submitted on 30 April.
Alex Zino, Rolls-Royce's director business development and future programmes and chairman of the Eurojet engine consortium, says the latter will transfer to Finnish industry the majority of production work on the EJ200 turbofans for the nation's aircraft. Also including in-service support services, such an arrangement would result in 1.5 million hours of work over a 40-year period, "and help to ensure security of supply", he adds.
"As part of our offer, Finnish defence personnel and strategic industry partners will be given the sovereign capability and skills as well as operational knowledge on the engine in order to lead on all activities, where Eurojet will become a supplier to Finland," Zino says.
Finland is the first potential Eurofighter customer outside of the core nations to be offered such work, he notes.
Also linked to the proposal, Helsinki was last November offered involvement in the Leonardo UK-led ECRS 2 active electronically scanned array (AESA) radar programme in the event of a Typhoon selection. The UK Ministry of Defence last September placed an initial £317 million ($437 million) contract to complete development work, perform testing and produce the updated sensor for part of the RAF's fleet.
"Finland gets what the Royal Air Force gets," chief of the air staff Air Chief Marshal Sir Mike Wigston says with reference to the AESA product, which will also gain electronic warfare functionality. "Finland will have complete sovereign control of Eurofighter's mission data, its management and manipulation," he adds.
Wigston also points to the Typhoon's proven operational pedigree, mature support arrangements and clear future development path. "If Finland selects Eurofighter, it will receive a highly reliable, highly capable, combat-proven aircraft, with no nasty financial surprises just around the corner," he says.
Other candidates for the HX requirement are the Boeing F/A-18E/F Super Hornet and EA-18G Growler, Dassault Rafale, Lockheed Martin F-35A, and Saab Gripen E/F and GlobalEye surveillance aircraft.
Helsinki is looking for a new platform to replace its F/A-18C/Ds from 2025, with a selection decision expected later this year.