Leonardo UK will deliver a first flight-test example of the ECRS Mk2 active electronically scanned array (AESA) radar for the Eurofighter Typhoon before year-end, with the Royal Air Force's (RAF's) service introduction schedule for the combination now targeted at the end of this decade.
One of the RAF's Tranche 3 Typhoons – aircraft BS116 (ZK355) – is now in the flight-test hangar at BAE Systems' Warton site in Lancashire and set to enter the preparation phase for receiving the new radar system.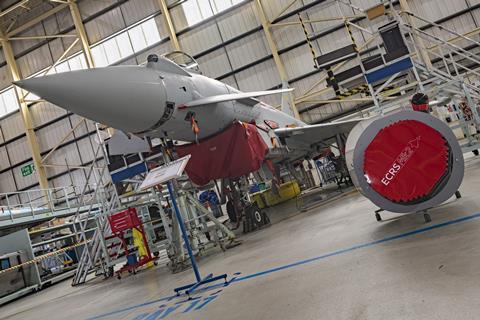 Following the completion of integration work and ground-based testing, the AESA system is expected to undergo flight-testing from late 2023, a Ministry of Defence (MoD) programme official says.
Ross Wilson, Leonardo UK's radar chief engineer, says the company currently has the sensor in testing using its roof-top laboratory in Edinburgh. "It is real, tested equipment, and we are now testing software," he says. Due to be transferred to Warton later this year, the system re-uses some equipment previously employed during a UK trials campaign named Bright Adder.
For the pending test phase, a spare radar also will be supplied to Warton, plus around "six additional items" to support work up to the initial operational capability (IOC) milestone being declared. At least two flight-test aircraft will be involved, along with personnel and additional assets from the RAF's 41 Sqn test and evaluation unit.
The MoD says service introduction will represent the availability of "a robust capability, which means the training and support systems are [also] in place", and offer "something that you can rely on and take to war".
"You need something you can put your hand on and actually deliver and [have] work in an operational environment and in a way that you can sustain," the MoD programme official notes. "Ukraine has adjusted our whole mindset," they add.
"It's not so much M-scan or E-scan: if you get the boxes behind the architecture right then you can do what you want," the official says. "We must be able to adapt to the enemy quicker and cheaper. We have to win the financial war as an operator – you need to win the speed of adaptation. So it becomes a proxy between programmers."
The UK will acquire ECRS Mk2 sensors to equip 40 Tranche 3 Typhoons, with the technology – which also will offer electronic attack functionality – to additionally be suitable for incorporation with Tranche 2 examples. At the time of the programme's launch in September 2020 the IOC milestone was aimed at occurring in 2025; a schedule later revised to 2028.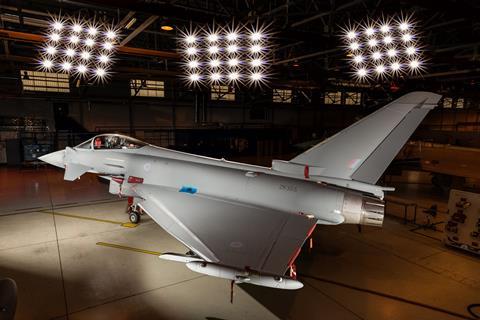 Disclosing the revised 2030 expectation during a Public Accounts Committee hearing on 28 February, UK Defence Equipment & Support chief executive Sir Simon Bollom noted: "It is more than a radar. It has to integrate with the defensive aids systems on the aircraft. It has to be part of the mission system in the aircraft. That is part of a bigger programme on Typhoon called P4E." Integration activities on the Tranche 3 fleet will commence in 2026, he said.
Fresh funding for the ECRS 2 effort is due to be approved from late this year, with this to clear the way for production and equipment delivery.
Meanwhile, the RAF has made an early adoption of the latest TSP6-standard update for the Typhoon's current Captor-M mechanically-scanned array. "That radar is absolutely singing right now," the MoD official notes.
Separately, BAE is continuing flight testing from Warton of the P3EB capability update package for the Typhoon, using instrumented production aircraft IPA6, with around a dozen flights completed by 24 May.
Ground trials involving aircraft BS131 (ZK370) to prove updated functionality for the MBDA Brimstone air-to-surface missile also are being performed in support of a future P3EC modification, says Andy Flynn, Typhoon capability delivery director at BAE Systems Air.