The UK may replace all of the Royal Air Force's (RAF's) current 60-strong fleet of Boeing CH-47 Chinooks with new-build examples to enable the operation of the tandem-rotor type well into the future.
London has already signaled its interest in acquiring 16 F-model Chinooks, likely the long-range MH-47G variant, but has not previously indicated a wider requirement. US approval for a potential $3.5 billion deal was granted in 2018.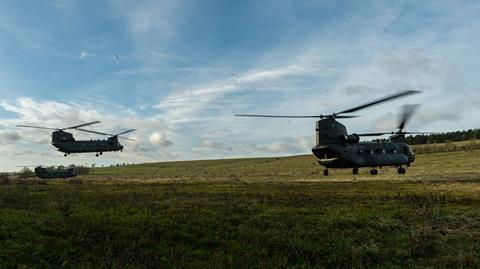 But Colonel Paul Morris, assistant head of plans, capability air manoeuvre for the British Army, told the Royal Aeronautical Society's Next-Generation Rotorcraft Conference on 20 January that the UK had a long-term plan for the CH-47 fleet.
Under the Chinook Capability Sustainment Programme (CSP), older airframes will be replaced through a tranche one effort. That would deliver a "transformational change to the UK [vertical heavy lift] capability through the procurement of new-build Chinook H-47 (ER) aircraft", according to a slide displayed as part of Morris's presentation.
In addition, it would replace "the most obsolescent Chinook aircraft at the earliest opportunity".
The RAF's oldest CH-47Ds date from the early 1980s, according to Cirium fleets data. However, the newest examples – 14 F-model HC6s – only began arriving in 2014. All are being upgraded with common digital flight controls.
A follow-on tranche "will examine the remaining obsolescence issues of the aging fleet", the slide notes. Morris adds that the second tranche would "address the remainder of the fleet".
A graph accompanying the slide shows that as early as 2034, the majority of the UK's current Chinook fleet will have accumulated in excess of 10,000 flight hours.
An acquisition as part of the tranche one activity is currently in the "assessment phase", says Morris.
He declines to speculate on the number of helicopters being considered under any tranche two acquisition, noting that this will depend on the outcome of the Ministry of Defence's ongoing Integrated Review.
However, he says that his concern is to deliver "the best possible capability for the end user".
"To that end, we are pushing for the numbers that we have done," Morris says.