The UK has for the first time demonstrated its restored Carrier Strike capability, with Lockheed Martin F-35B Lightnings operating from the 65,000t vessel HMS Queen Elizabeth striking targets in the Middle East on 18 June.
"Stealth jets of the renowned 617 Squadron carried out operational sorties for the first time from the carrier in support of Operation Shader and US Operation Inherent Resolve," the UK Ministry of Defence said on 22 June.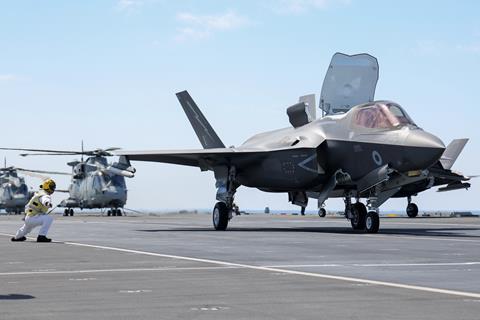 Currently on its planned seven-month first operational deployment, HMS Queen Elizabeth has an embarked air wing which includes 18 F-35Bs drawn from the Royal Air Force's (RAF's) 617 Sqn and the US Marine Corps' (USMC's) Marine Fighter Attack Squadron 211.
Images released by the UK Ministry of Defence show that its Lightnings were each armed with two MBDA Asraam short-range-air-to-air missiles carried beneath the wing, as well as air-to-surface stores housed within internal weapons bays. In-flight refuelling support was provided by RAF Airbus A330 Voyager multi-role tanker transports.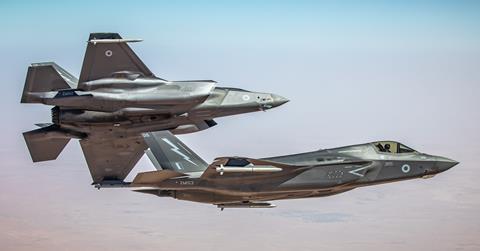 The first carrier-launched strikes made against Daesh targets – further details of which have not been released – demonstrate "the speed and agility with which a UK-led Carrier Strike Group can inject fifth-generation combat power into any operation, anywhere in the world", says Commodore Steve Moorhouse, commander of the UK's Carrier Strike Group 21 deployment.
"We have [previously] delivered diplomatic influence on behalf of the UK through a series of exercises and engagements with our partners – now we are ready to deliver the hard punch of maritime-based air power against a shared enemy," he adds.
Captain James Blackmore, commander of the vessel's Carrier Air Wing, notes that the sorties marked "the Royal Navy's return to maritime strike operations for the first time since the Libya campaign a decade ago". They also saw US combat assets operating from a UK aircraft carrier for the first time since 1943, he adds.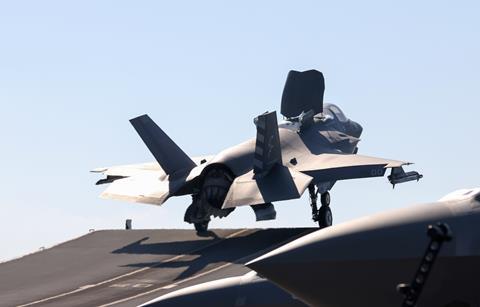 UK F-35Bs first participated in operations against Daesh in Iraq and Syria during sorties flown from RAF Akrotiri in Cyprus in June 2019.