The UK's future combat air system (FCAS) activity is on track to enter its concept and assessment phase later this year, according to Michael Christie, director of FCAS at BAE Systems Air.
Christie says the Team Tempest industrial group – a joint venture involving BAE, Rolls-Royce and the UK units of Leonardo and MBDA – is anticipating a decision in the next few weeks to progress to the new project phase, with the work likely to come under contract and begin "as we go into the summer".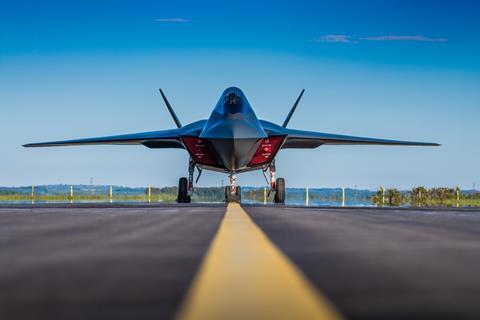 To build on the results of research conducted during an initial technology development phase, the coming activity will be used to inform a future alternate systems review, which will define which equipment will form part of an FCAS.
"We will have a number of elements – the core element is likely to be a manned or optionally manned system, but there will be a number of other components that sit around it," Christie said on 9 March.
Multiple system configurations will continue to be considered until the UK Ministry of Defence defines its formal future combat air capability requirements later this decade.
"We are still looking at multiple options, and the balance between the various components," he says. "We will be keeping our options open for a while yet." The envisioned system also will include what Team Tempest describes as "adjuncts" such as unmanned loyal wingman platforms, along with "effectors" in the form of air-launched weapons and "non-kinetic effects". The system also will include command and control and communication elements to support its operation.
Last year, Team Tempest and its partners completed work and delivered information on around 60 technology projects, which supported its completion of an outline business case proposal since delivered to the MoD.
Separately, a trilateral memorandum was signed between the UK and partner nations Italy and Sweden, to continue their involvement in the programme.
Christie notes that a collaborative working definition project concluded with Sweden and Saab in 2020 "was extremely successful".
Further details about the UK's FCAS ambitions are expected to emerge when the MoD releases the outcome of its Integrated Review process, currently scheduled to occur on 16 March.
Christie says Team Tempest's goals for 2021 include "to make the next step in the UK acquisition process" and "forming the international programme". He notes: "They will coincide at some point later in the year… and then we will join a single organisation structure later in the programme."
With regard to the likely industrial framework which will be established to deliver the project for multiple nations, Christie notes: "Rather than start with a structure, we are starting with an outcome in mind, which is that we want an efficient, competitive construct. All of our industrial partners have got the same objective there."
Team Tempest has previously outlined a schedule under which it will deliver a full business case proposal for the FCAS project by the end of 2025. An operational capability is expected to be available by 2035.