With the UK's cross-domain DSEI show to open its doors in London from 12 to 15 September, we preview its likely major aviation-sector highlights.
To be staged at the ExCel exhibition centre, the biennial event's theme this year is 'Achieving an integrated force', with interests spanning five zones: aerospace, land, naval, joint, and security.
Taking pride of place in the boulevard area between ExCel's two giant halls will be an exhibit promoting the Global Combat Air Programme (GCAP) involving Italy, Japan and the UK. The partner nations in December 2022 cemented their pact to collaboratively develop a sixth-generation manned fighter as the core platform within a future combat air system (FCAS) which also will include supporting technologies such as communication networks and advanced weapons.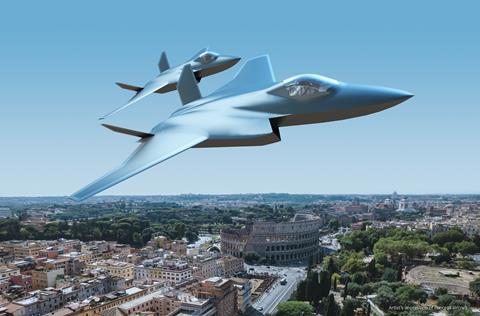 Also at the show, the partner nations' programme directors will for the first time speak together on the same panel, where they will outline the work performed so far and their future priorities. To take place on 13 September, the discussion will also include senior officials from key industry partners BAE Systems, Leonardo and Mitsubishi Heavy Industries.
"There is something real and really tangible about how this is going to go," DSEI's senior defence adviser, Gary Waterfall, told FlightGlobal in a recent interview, discussing the trilateral combat air project. "It's as much about a political shift in direction from the nations to harness themselves together to produce a platform in the mid-2030s. The programme has now got a great degree of certainty attached to it."
INTEGRATED APPROACH
Referring to the integrated force theme, Waterfall notes: "That's joining up everybody – it's not just about across-domain in the UK as a multi-domain integration. It's also within the UK industry base, from the big primes down to the SMEs. It's also linking up UK industry and UK government for holistic defence and security. And then if that's not enough of a challenge, it's linking up internationally as well," he says.
"The new AUKUS [Australia-UK-USA military alliance] and GCAP partnerships exemplify our commitment to deepening the relationships between the Euro-Atlantic and Indo-Pacific regions, and to facing the threats of the future together," the UK Ministry of Defence (MoD) says in its recently published Defence Command Paper, titled Defence's response to a more contested and volatile world.
Referring to the GCAP initiative, it says: "It is being designed to ensure our ability to protect our interests and allies and partners, to retain control of the air, and to conduct crucial missions in contested environments, integrated with forces across air, land and sea, and interoperable with our [Lockheed Martin] F-35 fleet and allied aircraft.
"GCAP is strengthening Atlantic-Pacific links, deepening collaboration between key partners, and seeks to deliver a shared capability reinforcing security in both regions," the report says.
ADDED VALUE
"The three countries have an interest in adding value through our technology, skills and investment in our industries," Richard Berthon, the UK MoD's director future combat air, said during the Royal Air Force (RAF)/Air Power Association's global air & space chiefs conference in London on 12 July. "We want to be different and complementary to existing capabilities," he adds, noting that each of the GCAP partners already operates the F-35.
The partners' national military requirement teams have been brought together to work on GCAP. "Despite the differences between the Euro-Atlantic and Indo-Pacific regions in threat, there are significant alignments," Berthon says, pointing to "a ubiquity of technology proliferation", such as the spread of complex air-defence systems.
"It has been interesting as we have brought the three parties together, to look at just how complementary those military capability requirements are. We think there is a middle ground between them.
"We think that this collection of [three] G7 countries has the resources and the skills base to be able to take on a programme of this scale and ambition," he says, while referring to a "hugely challenging timeline to deliver a capability into service in 2035".
"To many that sounds rather casual, but for those who know what they are doing that is unbelievably pacey," he notes.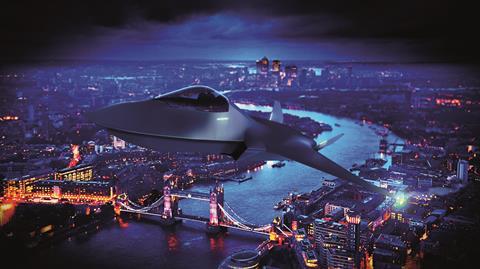 Also speaking in mid-July, at the company's Warton site in Lancashire, Herman Claesen, BAE Systems' managing director FCAS, gave an update on the current state of play.
"Freedom of action is a very important driver for the GCAP programme – not just for the UK, but also for our international partners," he says. "It is a key requirement which drives the way we set ourselves up, interact with each other and design the solution ultimately.
INTERNATIONAL BALANCE
"What makes this programme is striking the balance between delivering an operational capability, making sure that the international environment works and aligning the political [objectives] and business strengths of each of the companies.
"Because of the size of investment involved from the different governments, it also needs to contribute towards that [national] economic and prosperity benefit," he adds. "There is commercial, legal and financial engagement; engineering – we are right across all the functional areas. We are co-creating, developing, setting up the programme to make sure we can achieve the objective that the three governments have outlined in terms of an IOC [initial operational capability] in 2035. The discussions and the interactions are very positive, very constructive, because they are challenging," he adds.
The programme's so-called outline business case 2 proposal will be submitted during 2024, seeking a full programme launch decision by the partners.
Claesen notes that securing future export business is another key element of the GCAP effort, which aims to introduce its next-generation fighter to use around five years sooner than a rival French-German-Spanish FCAS activity.
"If we deliver solutions in 2035, we will be a first-mover – we will be one of the few Western nations outside the USA to make a sixth-generation capability available to export customers," he says. "That's an incredibly strong position for the GCAP programme to be in. We are doing a lot of export analysis for that timeframe, and those requirements are being fed back into the concepting phase.
"We are making sure that the solution that we are developing in response to our Japanese, Italian and UK requirements has that exportability element attached to it as well. We assume that this programme will be able to generate several hundred [aircraft as] export sales at least."
EXTENDED COLLABORATION
Meanwhile, Claesen also refers to a bilateral agreement signed by the UK and Saudi Arabian governments to collaborate on future fighter technologies. Announced earlier this year, it is a means of extending their decades-long collaboration, which has already led to Riyadh's acquisition of the Panavia Tornado and Eurofighter Typhoon.
"We have been providing combat air capability to the kingdom, and of course we would like to continue with that," he says. "It's good to see that the governments have started to explore those conversations, to see what that could mean. In due course, once we are clear about the Saudi expectations and requirements, we will see how that best fits into the spectrum of activities which are currently playing out."
Another programme sure to be in the spotlight at DSEI will be the MoD's New Medium Helicopter (NMH) requirement, which has made only faltering progress since the last show two years ago.
Involving the Airbus Helicopters H175M, Leonardo Helicopters AW149 and Sikorsky S-70M Black Hawk – shortlisted in October 2022 – the NMH contest seeks to field replacements later this decade for the RAF's current Puma HC2s, plus additional models including the Bell 412.
The MoD expects to release a delayed invitation to negotiate "later this year", seeking up to 44 new rotorcraft. Following recent suggestions from industry sources that the scale of the programme could be reduced to 25-35 aircraft, it states: "There has been no change to the advertised requirement [since] May 2022." The procurement has been estimated to be worth up to £1.2 billion ($1.5 billion).
MEDIA PARTNER
As DSEI's aerospace domain media partner, FlightGlobal will be reporting from the event, which the show's organiser notes will feature a major increase in both the air and space sectors.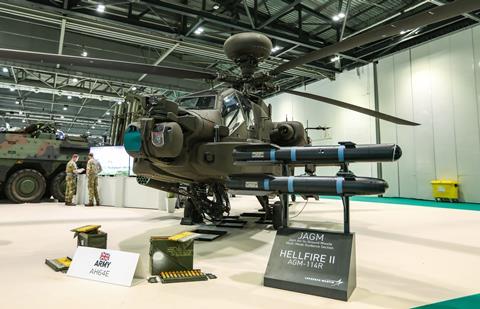 Meanwhile, with sustainability being another key subject area – as the RAF, for example, works towards a target of achieving net-zero status by 2040 – Waterfall notes: "Now we are actually getting capabilities that are better than carbon-heavy alternatives. You can actually have sustainable aviation and deliver operational advantage."

Craig Hoyle joined Flight International in 2003, and has edited the now monthly title since 2015. He has reported on the UK, European and international military aviation sector for more than 25 years, and produces our annual World Air Forces directory.
View full Profile