A UK fleet of Beechcraft King Air 350ERs used to train personnel for the Royal Air Force (RAF) and Royal Navy (RN) is to undergo a major capability upgrade, with the updated Avengers to be capable of serving for another decade.
"The Avenger aircraft will be extensively modified to accommodate an [active] electronically scanned array radar, an electro-optical camera, and reconfiguration of the cabin area and mission consoles," says Ascent Flight Training. It subsequently told FlightGlobal that Leonardo will supply its Osprey 30 radar for integration with the type.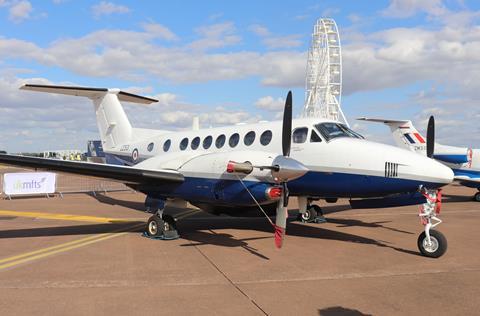 Announced on 5 June as part of a £125 million ($155 million) Rear Crew Sustainment deal, the effort will extend the twin-turboprop's "service life from 2023 to 2033," the Ministry of Defence's (MoD's) training provider says.
The award includes a three-year extension with Ascent, covering the delivery of services with the Avenger fleet from the RN's RNAS Culdrose site in Cornwall until July 2026. The MoD intends to later replace the arrangement via its future intelligence, surveillance, target acquisition and reconnaissance programme.
Ascent managing director Tim James describes the project as "a comprehensive update and modernisation of our training aircraft, courseware and simulators".
Draken Europe will be responsible for the design and integration of a replacement airborne mission trainer capability, and also will deliver sustainment services for the aircraft fleet.
Supported by a mix of civilian and military personnel from 750 Naval Air Squadron, the Avengers provide instruction to RN observers and RAF weapon systems officers.
"This critical output will prepare them to ultimately operate onboard Wildcat, Merlin, Poseidon and Rivet Joint aircraft," says Ascent.
The Avenger service forms part of the UK Military Flying Training System (UKMFTS) programme, which has been delivered by Ascent, the Lockheed Martin and Babcock International joint venture, since 2008.
A total of four Avengers are in service, with the type having entered use in 2011, replacing the British Aerospace Jetstream T2.
Story updated on 7 June with confirmation of new radar type.

Craig Hoyle joined Flight International in 2003, and has edited the now monthly title since 2015. He has reported on the UK, European and international military aviation sector for more than 25 years, and produces our annual World Air Forces directory.
View full Profile