The UK Ministry of Defence (MoD) has conducted a milestone live-firing trial involving a small remotely piloted air system created by start-up developer Flyby Technology.
Named Jackal, the vertical take-off and landing (VTOL) aircraft was used to fire two Thales-produced Martlet lightweight multirole missiles (LMMs) during a tethered test.
The MoD announced details of the effort in mid-April, but Flyby confirms that the test activity was conducted last October.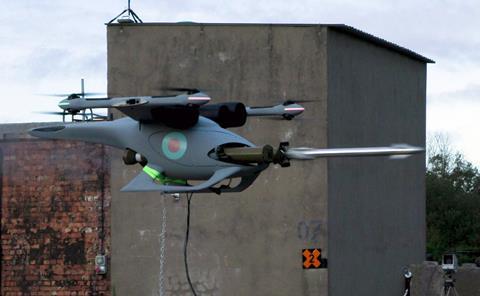 "Following the [February 2022] invasion of Ukraine, Flyby Technology was asked to brief the Royal Air Force's [RAF's] Rapid Capabilities Office [RCO] on the new drone system," the company says. "Thales accepted the opportunity to work with Flyby to be the first to fire LMM from a drone in flight," it adds.
"Just six weeks after getting the call, the combined teams successfully fired two LMMs," Flyby says. The company built two air vehicles within the same period to support the activity.
Headed by chief executive and ex-RAF fighter pilot Jon Parker, the company developed the Jackal with design engineering and prototyping support from Turkish companies FlyBVLOS Technology and Maxwell Innovations, and performed earlier flight-testing at a dedicated range in the country.
Flyby has identified a wide range of potential applications for what it describes as the "attack drone", including "battlefield air interdiction, close air support, engaging helicopters in flight and killing tanks, to denying the use of runways and roads".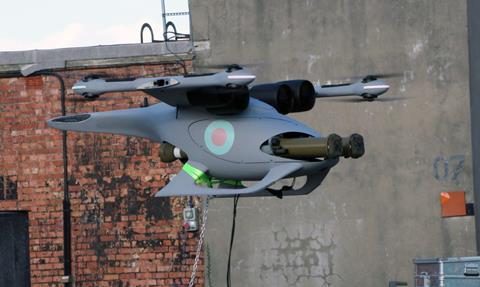 "Given the impressively short timescale it took the team to deliver the initial trial, it's clear that Flyby could have an exciting future in this sector," says Air Commodore Jez Holmes, head of the RCO. "The partnering and support from Thales was outstanding in lowering the barriers to entry for innovative start-ups," he adds.
"This time-compressed and ground-breaking trial has proved that both Thales and Flyby can produce impressive and agile results when focussed on a collective, shared objective," says Philip McBride, managing director of Thales in Northern Ireland, where the Martlet round is produced.
"The future of warfare is changing, and Jackal is part of that future as a true multi-role attack aircraft," Parker says. "We want to make Jackal a flagship product, creating secure UK jobs and contributing to a new future for the British aerospace and defence industries."
"The Jackal team is now developing plans for productionising the capability, whilst the aircraft is undergoing other enhancements and tactical development," Flyby says. It adds that it is "now seeking UK manufacturing partners to build Jackal at scale".
The company says it has also received interest in its VTOL aircraft from nations including Iraq, Taiwan and Ukraine.
Craig Hoyle joined Flight International in 2003, and has edited the now monthly title since 2015. He has reported on the UK, European and international military aviation sector for more than 25 years, and produces our annual World Air Forces directory.