The UK Ministry of Defence (MoD) has ordered the first part of a future space-based intelligence, surveillance and reconnaissance (ISR) constellation, with Surrey Satellite Technology (SSTL) awarded £22 million ($27.9 million) to provide the Carbonite+ spacecraft.
Announced earlier this month as Project Tyche, the order has been placed on behalf of the Royal Air Force's (RAF's) Space Command organisation.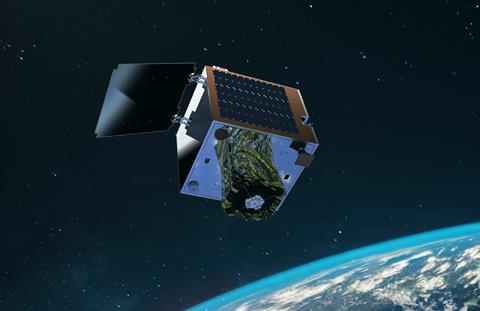 Carbonite+ is described as a 150kg (330lb) spacecraft, which SSTL says "will be compatible with both horizontal as well as vertical launch". The UK is in the process of developing its own spaceport infrastructure, in addition to hosting the ability to deploy small satellites from Virgin Orbit's adapted Boeing 747-400 launch platform.
The RAF late last decade acquired the Carbonite-2 spacecraft from SSTL, with the payload – capable of providing real-time video from low-Earth orbit – having been launched from India.
"Project Tyche is the first satellite procurement for the Minerva programme, which is a key enabler in the development of the foundation for a UK space-based ISR constellation under programme ISTARI," SSTL says. "Delivered under a three-year build programme, Carbonite+ will be operated from SSTL's Spacecraft Operations Centre in Guildford," it adds.
SSTL says the Carbonite+ effort will result in "a robust understanding and analysis of the integration activities, test environments and interfaces required to establish and maintain UK MoD rights to freely operate a space-based ISR capability.
"The project also aims to understand security requirements, risks and identify further activities which may be required to mature the ISTARI ISR capability," the company adds.
The UK's Space Command was established in April 2021; one month after the MoD's procurement priorities until 2025 had been outlined in a Command Paper document which included plans to create a space-based ISR capability.