UK defence officials have cancelled the Project Mosquito 'loyal wingman' technology demonstrator being developed by a team including Spirit AeroSystems Belfast and Northrop Grumman, to instead pursue smaller and cheaper alternatives.
One of several initiatives being explored by the Royal Air Force's (RAF's) Rapid Capabilities Office (RCO), the Mosquito aircraft had been tentatively scheduled to fly in 2023.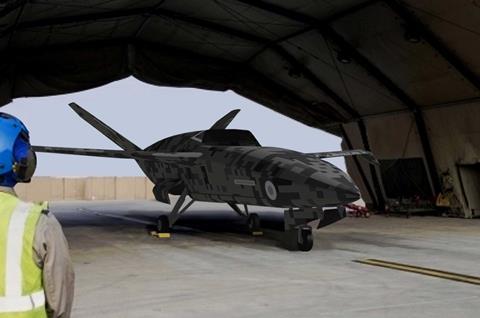 However, the Ministry of Defence (MoD) on 24 June announced that the project will not "proceed beyond the design phase".
The MoD says the decision was "taken by mutual agreement with industry partners" and followed "a detailed review of the technical demonstrator and the broader Lightweight Affordable Novel Combat Aircraft (LANCA) programme".
It says analysis and capability experimentation carried out by the RAF and the Defence Science and Technology Laboratory (Dstl) concluded that "more beneficial capability and cost-effectiveness appears achievable through exploration of smaller, less costly, but still highly capable additive capabilities".
Air Commodore Jez Holmes, head of the RCO, insists that work on Project Mosquito has been worthwhile, allowing the RAF to make "substantial progress" and gain "significant value in understanding and harnessing a range of future uncrewed capabilities".
"This decision maximises the learning accrued to date and enables a change of direction for the LANCA programme," he says.
"The Rapid Capabilities Office will now quickly launch activities to aggressively pursue the RAF's unchanged firm commitment to integrate advanced uncrewed capabilities into the near-term force mix with more immediate beneficial value."
Investigation of loyal wingman concepts will still continue as part of the UK's Future Combat Air System programme, which is set to arrive post-2035, says the MoD.
Team Mosquito, which includes Spirit AeroSystems Belfast, Northrop Grumman, Intrepid Minds and Dstl, was awarded £30 million ($36 million) in early 2021 to advance the project to flight status.

Dominic Perry is deputy editor of Flight International but also contributes extensively to flightglobal.com. Although specialising in the coverage of the helicopter industry, he has written on most topics in aerospace – be they commercial, defence or business aviation. In addition, there has been an increasing focus on the decarbonisation of the industry and zero-emission flight initiatives.
View full Profile