The UK is in negotiations to purchase 26 more Lockheed Martin F-35Bs as its next-batch commitment to the US-led programme.
"As part of our planning assumption in the IR [integrated review] and SR [spending review] that we have just been through, we have assumed an increase of a further 26 F-35B aircraft," Air Marshal Richard Knighton, deputy chief of the defence staff, said during a Defence Select Committee hearing on 26 April.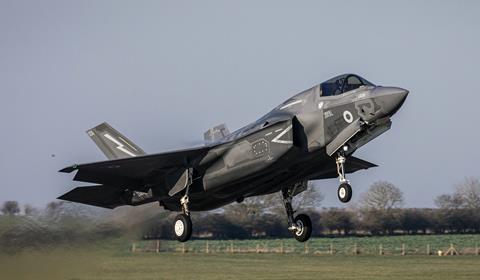 "We are in the process of negotiating that additional purchase… with the Joint Program Office and Lockheed Martin," he says. Funding for the acquisition, plus associated support and infrastructure costs, has been set aside in the Ministry of Defence's equipment programme, he adds.
The UK has previously ordered a total of 48 short take-off and vertical landing F-35Bs, with Cirium fleets data indicating that 26 of the type are in current active use. A further example, registered ZM152, was written off during a mishap on the aircraft carrier HMS Queen Elizabeth on 17 November 2021.
A Level 1 partner on the F-35 programme, the UK has a long-held total requirement to acquire an eventual 138 of the fifth-generation type.
"The decision around a further purchase beyond that [combined] 74 will be taken in the middle of the decade, in the context of what we decide to do on our Future Combat Air System programme," Knighton says.
"It is perfectly plausible to imagine a situation in which we could have a fleet of 138 F-35s, which we originally described back in the early 2000s," he adds.