The UK Ministry of Defence (MoD) has for the first time revealed its interest in acquiring an additional batch of Airbus Defence & Space A400M Atlas tactical transports, as the Royal Air Force (RAF) draws close to completing its 22-strong fleet of on-order examples.
London's expression of interest in a potential follow-on procurement was briefly included within the MoD's Defence Equipment Plan 2021-2031 publication, released on 21 February.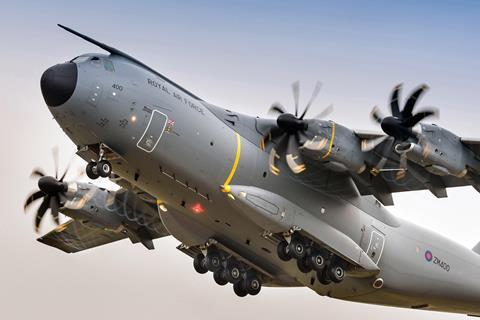 "In later years of the plan, planned equipment investments worth £2.3 billion [$3.1 billion], including a second tranche of [Lockheed Martin] F-35 and further A400M aircraft, have not yet been delegated to TLBs [top level budgets] and doing so will be dependent on the affordability of the programme as a whole," the MoD says.
"Funding for new A400M Atlas and additional purchase of F-35B Lightning II (beyond the 48 the department is already committed to) is not included in Air Command's planned spend and is held centrally," the report notes.
No details about the number of transport aircraft to be sought or the possible timing of an order have been disclosed.
The UK had 25 A400Ms on order at the time of the programme's formal launch in 2003, but its offtake was reduced to 22 as part of an emergency contract revision subsequently agreed between Airbus and its European launch customers.
Twenty Atlas airlifters have so far been delivered to the RAF, with its remaining two examples due to be delivered this year. The service is facing a looming major reduction in its tactical transport capabilities, due to the early retirement of its remaining Lockheed C-130J Hercules, the last of which are due to depart in 2023.
Meanwhile, the latest MoD report provides no fresh insight into possible changes to the UK's programme of record commitment to acquiring 138 F-35s over the life of the programme.
It does, however, warn of likely delays to the MBDA Meteor beyond-visual-range air-to-air missile's operational introduction with the stealth fighter.
"Meteor [integration] was assigned a place in the Follow-on Development Programme by the F-35 Joint Programme Office and contracts were awarded to Lockheed Martin in the early summer. However, entry into service is not anticipated to be until 2027 and there is a possibility that integration pressures in the programme may incur further delays because of challenges in the wider F-35 programme," it cautions.