The UK is making strong early progress with its sixth-generation flying technology demonstrator programme, with its industry partners having already performed tests on key engine, crew escape and flight control technologies.
Announced at the Farnborough air show in July 2022 under a UK-only effort supporting the development of a Tempest fighter as part of a Future Combat Air System (FCAS) capability, the demonstrator effort remains on schedule to achieve first flight in mid-2027, officials say.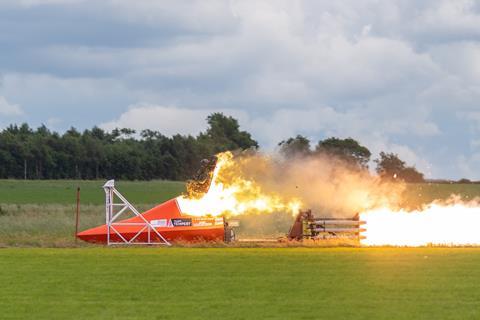 On 13 June, BAE Systems – a joint member of the Team Tempest industry group, alongside Rolls-Royce and the UK arms of Leonardo and MBDA – for the first time invited journalists into a new facility at its Warton site in Lancashire dedicated to the demonstrator effort.
Systems on display included a low-observable airframe-compatible engine inlet and duct design, which underwent rig-based aerodynamic testing between November 2022 and February this year. This was trialled in combination with an unmodified Eurojet EJ200 turbofan – sourced from a Royal Air Force (RAF) Eurofighter Typhoon – at R-R's Filton site near Bristol.
While the Team Tempest partners have not revealed the overall design of the demonstrator vehicle, its large scale is indicated by the engine duct having a length of roughly 10m (32ft 8in) from the intake to the front of the engine. It has been "uniquely shaped to slow the air from supersonic to subsonic speeds at the engine face", they note.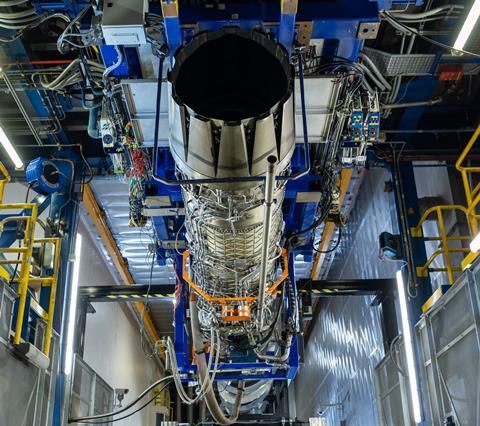 Conrad Banks, R-R's chief engineer defence future programmes, describes the test activity as having been "fully successful", by proving the ability of the engine to perform without experiencing air distortion or resonance issues.
"The important thing here is to make the EJ200 think that it's sitting in a Typhoon," he says of the demonstrator's "sixth-generation installation", as this will enable the powerplant to be operated using established flight clearance protocols.
The architecture tested in Filton has already been validated for use on the twin-engined test aircraft, Banks confirms.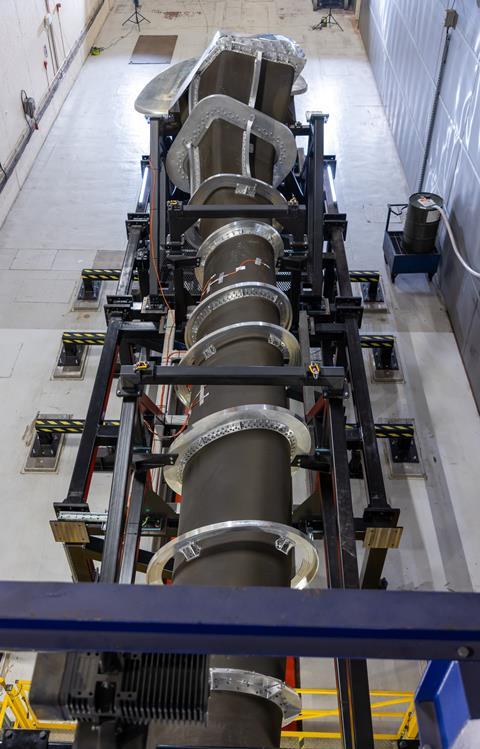 The supersonic demonstrator will be the UK's first such asset since its Experimental Aircraft Programme of the early 1980s, which preceded the development of the Typhoon. Key design aspects also will include the use of low observability shaping techniques, similar to those that are likely to be employed on the Tempest platform.
Meanwhile, in another early development, work has already been completed on the demonstrator's crew escape system, which is centred on a Martin-Baker Mk16A ejection seat – also common to the Typhoon.
A test campaign started in February 2022 with a static firing to evaluate a canopy design incorporating technology from BAE's Hawk advanced jet trainer. This was followed by two sled test seat qualification firings each at forward speeds of 280kt (518km/h) and 450kt, involving both lightweight and heavy instrumented mannequins being successfully deployed from a representative forward fuselage design.
Housed within Warton's Hangar 5, the new demonstrator facility currently accommodates four integrated development rigs; respectively assigned to its cockpit, flight control system management, computing and models, and utility management system.
Employing a mix of hardware, emulators and digital models, the so-called hybrid rig is enabling pilots to fly the future design in a simulator. Engineers also are currently assessing the performance of hydraulic actuators for its wing and tail.
To date, 10 pilots – from BAE, R-R and the RAF – have evaluated the simulator, logging more than a combined 170 test hours through roughly 125 sorties. BAE notes that it is also using this process to help inform the design of the flight control system, by "capturing crucial data about how the jet will handle and perform, years before its first flight". It also is employing "auto coding, to create safety-critical systems software".
Neil Strang, BAE's Tempest delivery director, says the early successes underscore the demonstrator's importance as a "catalyst" for the Global Combat Air Programme, which also involves the defence aerospace industry champions of Italy and Japan. Around 1,000 people are currently working in support of the demonstrator effort, he says, adding: "We are moving at pace, and de-risking the [Tempest] programme."
He also reveals that the UK is exploring the possible expansion of its demonstrator programme to also include Italian and Japanese involvement.
"We are talking to our Italian and Japanese colleagues now about how we can embrace them on the demonstrator," he says.
Also speaking at Warton, Air Commodore Martin Lowe, FCAS programme director for the UK Ministry of Defence, describes the combat air demonstrator as "a hugely important part" of the wider effort, along with separate radar and engine technology initiatives.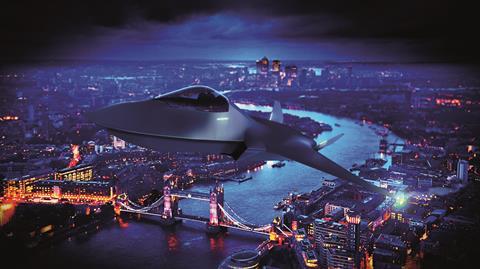 The Tempest platform is due to enter operational use with the RAF in 2035, as a replacement for its multi-role Typhoons.

Craig Hoyle joined Flight International in 2003, and has edited the now monthly title since 2015. He has reported on the UK, European and international military aviation sector for more than 25 years, and produces our annual World Air Forces directory.
View full Profile