Moored nose-to-tail in Portsmouth harbour for the first time earlier this year, the UK's two largest ever warships made an imposing presence, despite the absence of the Lockheed Martin F-35Bs which will in time deliver the Royal Navy (RN) vessels' firepower during operations around the globe.
The result of a more than £6.2 billion ($7.4 billion) investment, the ships – once combined with their embarked fighters – will enable the RN to reinstate a carrier strike capability which has lapsed since the retirement of the UK's last BAE Systems Harrier GR9As in late 2010.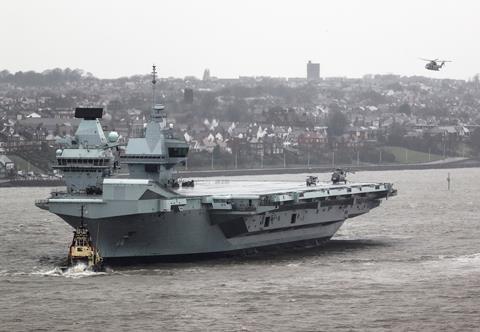 Lead vessel HMS Queen Elizabeth was formally commissioned in December 2017, and second of class HMS Prince of Wales is currently undergoing sea trials. Each with a displacement of around 65,000t, the pair will routinely accommodate short take-off and vertical landing (STOVL) F-35Bs, plus Leonardo Helicopters AW101 Merlin HM2 anti-submarine/multi-mission helicopters, including examples configured for airborne early warning (AEW) duties.
Other models likely to be operated from the type's spacious, 280m (918ft)-long flight deck include Merlin Mk 4 rotorcraft assigned to the Commando Helicopter Force and supporting tasks conducted by the Royal Marines, plus Royal Air Force Boeing CH-47 Chinook transport helicopters.
Flight International in early March visited Liverpool, during a seven-day deployment by Prince of Wales, during which the vessel hosted public visits and industry activities supported by the UK Naval Engineering Science & Technology group. Being operated with a partial crew of around 650 personnel during its ongoing work-up period, the ship was exhibited with one Merlin and Wildcat up top, plus another Merlin and a Chinook within its cavernous hangar deck.
At full strength with its air wing deployed, the ship's complement will rise to around 1,600-strong.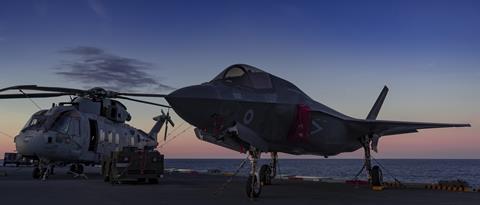 Two series of flight trials using embarked F-35Bs have already been performed by Queen Elizabeth, and this integration activity is scheduled to conclude in early 2021, when Prince of Wales – which has yet to welcome the STOVL type aboard – will be deployed off the US East Coast.
Then, more than a decade after the final flight of a Harrier from the now scrapped 22,000t HMS Ark Royal, the RN will late next year launch its first operational deployment with F-35s. This Carrier Strike Group 21 activity also will involve escorts and Royal Fleet Auxiliary support ships. Additional anti-surface warfare protection will be provided by Wildcats deployed aboard Type 23 frigates or Type 45 destroyers and armed with Thales Martlet air-to-surface missiles and, from 2022, MBDA Sea Venom anti-ship missiles.
A key defensive capability will be provided by AEW-tasked Merlin HM2s now being adapted via the Lockheed-led Crowsnest programme, and replacing retired Westland Sea King ASaC 7 helicopters.
In its recently published Defence Equipment Plan 2019 report, the UK Ministry of Defence (MoD) outlined problems with the conversion activity. Attributing this to "Under-performance by the contractor during the development phase", it says: "A recovery action plan has been enacted and the project is being re-baselined to deliver an incremental capability to support the Carrier Strike Group 21 deployment."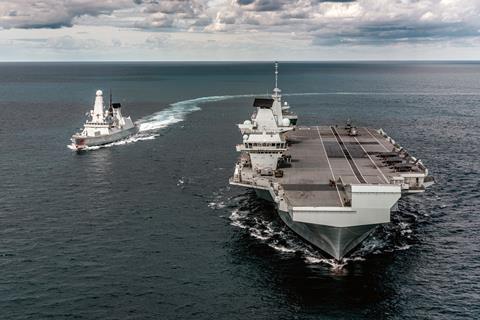 Once its Queen Elizabeth-class vessels are declared operationally ready, the MoD says the RN will have "one carrier always at very high readiness and the other at high readiness, supported by air, surface and subsurface platforms, to deliver maritime effect."
They will "provide a conspicuous presence on the global stage, sending a clear message of reassurance to our allies, and of defiance to those who wish to counter UK interests worldwide," it adds.