The UK Royal Air Force (RAF) looks set to equip its youngest Eurofighter Typhoons with an active electronically scanned array (AESA) sensor offering electronic attack functionality, which the system's developer claims will be "the world's most capable fighter radar".
BAE Systems will lead work to integrate the Leonardo UK-developed European Common Radar System (ECRS) Mk2 sensor, with flight-test activities due to commence in 2022 and initial operational capability targeted for 2025.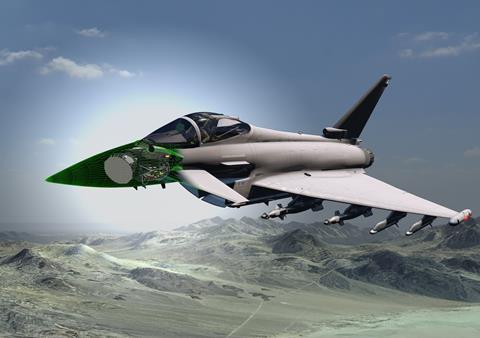 Under the terms of a £317 million ($420 million) contract announced on 3 September, an undisclosed number of AESA radars will be delivered to support test and evaluation activities. The deal also covers several pre-production examples, and the purchase of long-lead items to support a series procurement.
Previously also referred to as "Radar 2", the UK sensor is likely to be acquired initially for installation on the RAF's 40-strong fleet of Tranche 3 production-standard Typhoons. It also will be suitable for possible integration with the service's earlier Tranche 2-version fighters.
Described as a multi-functional array, the ECRS Mk2 will be able to simultaneously perform air-to-air and air-to-surface monitoring, along with wide-band electronic attack and high-power jamming. This will not only enable the Typhoon to operate independently in complex environments, but also support the UK's "fifth-generation" Lockheed Martin F-35s, and future combat air system elements including unmanned air vehicles.
"We are operating in an increasingly complex and congested environment – therefore we need the systems with the capacity and bandwidth to deal with that," says Anthony Gregory from BAE Systems Air. "We also need the different applications; not just traditional air-to-air and air-to-surface, but electronic attack, and passive [detection] features."
Key design aspects of the ECRS Mk2 include the use of "significantly more transmit-receive elements than other radars", BAE notes.
A new positioner will boost the sensor's field of regard, enabling a pilot to "prosecute targets at greater range and to a greater volume", notes Leonardo vice-president sales, radar and advanced targeting Tony Innes.
The radar also will use an open architecture mission system, enabling the RAF to make rapid updates in response to emerging threats. The Typhoon also will receive a replacement radome suitable for its higher-power output than the current mechanically-scanned Captor M, for example during electronic attack tasks.
Ground-based testing of the radar is already being conducted at BAE's Warton site in Lancashire and Leonardo's facility in Edinburgh, Scotland.
The UK is the third of the Eurofighter partner nations to advance an AESA update for the type. Germany and Spain earlier this year ordered ECRS Mk1 arrays for their fleets, with the sensor having some commonality with the UK's model via an earlier Captor E development activity conducted by the Euroradar consortium. Italy – which is also a partner in the UK's Tempest future combat air system project – has yet to indicate its future plan for a radar update on its current fleet.
BAE confirms that the ECRS Mk2 sensor has already been offered to Finland as part of a UK-led campaign promoting the Typhoon for its HX fighter requirement. Other candidates are Boeing's F/A-18E/F Super Hornet and electronic attack-variant EA-18G Growler, Dassault's Rafale, Saab's Gripen E/F, and the F-35A.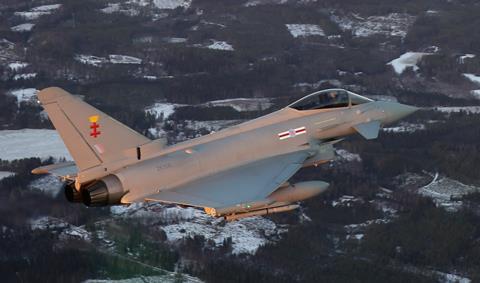 With the RAF's AESA sensor five years away from service entry, the design also will be offered to other potential export customers, including Saudi Arabia, which has held a long interest in acquiring a second batch of 72 Typhoons.
In addition to BAE and Leonardo involvement, the UK development activity also involves subcontractor Meggitt, the Ministry of Defence says.