The UK will face a longer than expected operational gap until the reintroduction of a dedicated fixed-wing airborne early warning aircraft capability, with prime contractor Boeing Defence UK confirming a slip to the delivery schedule for its E-7A Wedgetail programme.
Operations with the Royal Air Force's (RAF's) Boeing E-3D Sentry fleet ended in August 2021, with initial plans having called for the replacement Wedgetail AEW1 to achieve initial operational capability (IOC) in 2024.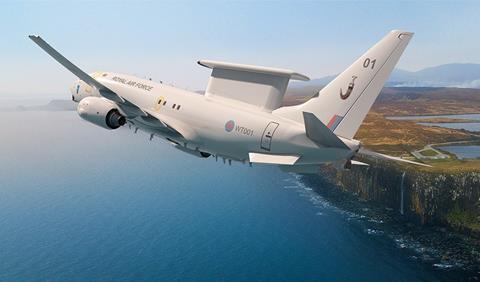 However, Boeing Defence UK managing director Anna Keeling told the UK parliament's Defence Committee on 29 November that the first of three 737NG-based Wedgetail aircraft will not be handed over until during that year, rather than in 2023.
"At the moment, our assessment is that the delivery of the first aircraft is in 2024," she says, attributing the development to factors including the Covid-19 pandemic and supply chain pressure. As an example, she notes: "On parts provision to the E-7 build here in-country, we are currently seeing an average increase in lead times of 244 days."
Boeing and the RAF also earlier this year highlighted a post-contract decision by the Ministry of Defence (MoD) to relocate the Wedgetail force from Waddington in Lincolnshire to Lossiemouth, Scotland, as having added pressure to the programme.
"We are working as diligently as we can… to ensure that we deliver this programme as quickly as possible," Keeling says. Boeing and the MoD are currently involved in a "detailed schedule assessment", she adds, with this to inform the latter's expected release of a full business case for the acquisition in early 2023.
The UK initially ordered five Wedgetail aircraft via an accelerated £1.5 billion ($1.8 billion) contract, but subsequently reduced airframe numbers to three. Those aircraft are already in conversion by STS Aviation Services in Birmingham, the UK, with the lead example having had its Northrop Grumman Multi-role Electronically Scanned Array radar installed in early November.
Keeling says "there will be cost savings" as a result of the MoD's fleet adjustment decision, but declines to provide further information. A revised IOC target date is expected to be confirmed following the completion of the full business case planning process.

Craig Hoyle joined Flight International in 2003, and has edited the now monthly title since 2015. He has reported on the UK, European and international military aviation sector for more than 25 years, and produces our annual World Air Forces directory.
View full Profile