When Ukrainians Oleksandr Kryvych and Oleksandr Nikonishyn arrived in Riyadh on 18 February to set up their country's World Defense Show pavilion, they expected to be home a week later.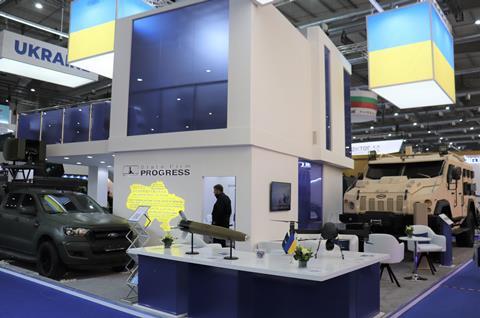 Instead, Russia invaded the day before their return flight, and the stranded pair, contracting officers for export firm Progress, were left to fly the flag for their nation at the event.
Kryvych and Nikonishyn, along with two colleagues, are their country's only representatives at WDS from a planned Ukrainian contingent of more than 30. Because of the grounding of all commercial flights, no others were able to travel.
As well as promoting the products of export agency Ukroboronprom – which include the Windhover unmanned air system, a model of which is on display – the two have been dealing with offers of donated or cost-price defence equipment to the Kyiv government from other exhibitors, says Nikonishyn.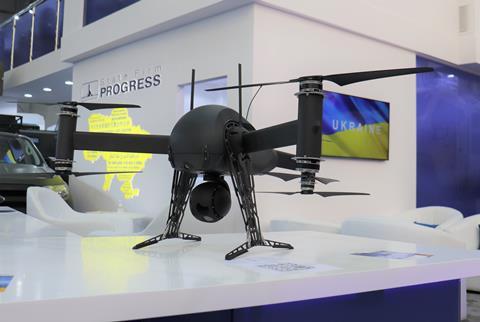 "We are normally an exporter and would be here hoping to make new export contracts," he says. "But this week we are mainly discussing imports."
The pair have family in Ukraine, and Kryvych says he has seen images on social media of destroyed neighbourhoods where he used to live and socialise.
There have also been reports of bomb damage to Ukrainian defence industrial sites in the far east of the country, although they do not have specific information.
"We are trying to be strong," says Nikonishyn.
While Ukraine has a limited presence at the Saudi Arabian show, in the hall next-door, Russian industry – headed by export agency Rosboronexport – has a bigger representation, along with companies from ally Belarus. Amid the displays and promotional videos for defence equipment, there is no reference to what Moscow euphemistically calls its "special military operation".
Not so on the Ukraine stand, where a screen shows footage of destroyed Russian ground equipment with the caption: "Russia's presence in Ukraine".
Kryvych and Nikonishyn echo the pleas of president Vlodymyr Zelensky for NATO to establish a no-fly zone over their country to deter Russian aerial attacks.
"We want to send a message to the rest of the world and ask each country to do something. Speaking out about this is good, but it is not enough to stop this nightmare," says Kryvych.