Buoyed by a recent high-profile investment from the UK Royal Air Force (RAF), and with additional backing now being sought via its latest funding drive, modular training aircraft developer Aeralis is aiming to take its concept to pre-production flying status before the middle of the decade.
In mid-February, the company secured a three-year funding commitment from the RAF's Rapid Capabilities Office (RCO), supporting its research and development activities. This was followed by an early March announcement of a formal teaming agreement with Thales Training & Simulation's UK arm.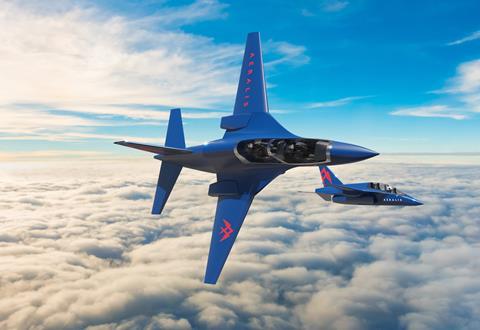 "The RCO will support the requirements and design review process to gain an understanding of how Aeralis defines the ways in which agile, modular, commercially-driven aircraft design can develop and certify a broad range of future aircraft systems that could support the RAF's ambition to rationalise its future fleet," the company says.
Air Commodore Jez Holmes, head of the RCO, describes the company as having "an extremely disruptive and innovative approach to design, modelling and certification processes". Their collaboration also will enable the RAF unit "to understand the exploitation potential of Pyramid, our new open mission system architecture," he adds.
For Aeralis chief executive Tristan Crawford, securing the UK military's support sets a clear timeline to advance the project, which originated in 2015 under the name Dart Jet.
"The focus for the last two years has been on putting in place the horsepower to do the digital design fast," Crawford tells FlightGlobal. He says that as the Covid-19 pandemic took hold in 2020, "We really focused on the engagement with the Royal Air Force and the RCO, and putting in place the partnerships and the digital enterprise, to be able to assure and certify whatever we design."
The UK Ministry of Defence's commitment has been disclosed as worth £200,000 ($276,000) until the end of the 2020-2021 financial year in early April, but Crawford declines to reveal the total sum to be provided through the enabling contract's full term.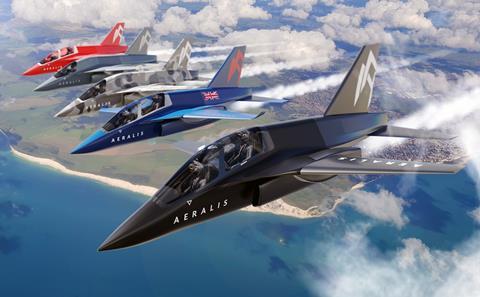 Aeralis believes strong potential exists to create a family of training aircraft to support the RAF's Future Combat Air System (FCAS), including a manned Tempest fighter. Via its Military Flying Training System (MFTS) project, the service currently uses Grob Aircraft G120TPs, Beechcraft T-6Cs and BAE Systems Hawk T2s for pilot instruction, and also still operates some aged Hawk T1s.
"It's about preparing for the future and giving the Royal Air Force options," Crawford says. "There is, beyond MFTS, the need to prepare pilots for Tempest and FCAS, and Aeralis is preparing a much more up-to-date solution for that."
The company has completed its conceptual design phase activities, and is now seeking fresh private investment via its third-round funding drive.
"The phase we are in now is to raise the equity we need to do the more in-depth design of the vehicle," says Crawford, who adds: "we have an aspiration to fly at the end of that 30-month programme."
The company has already secured patent approvals in the EU and the USA for its common core fuselage design: the heart of its modular trainer concept. This envisions producing multiple aircraft variants, optimised for duties ranging from basic to advanced training provision and beyond.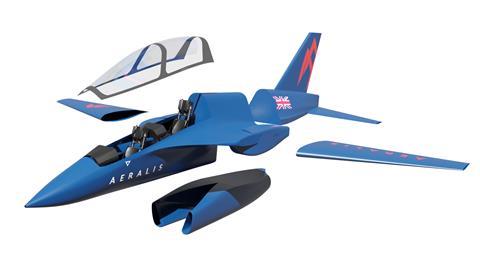 Speaking about the project's investment potential, Crawford says: "It's a fantastic time. Most of the world's Western air forces invested in training aircraft fleets, light combat, small light jet-level aeroplanes about 40 to 50 years ago, and all those fleets are now ageing and retiring. There are a number of competitions, and that is growing every few months."
While he declines to detail the funding target being pursued during the current investment drive, he confirms: "We are in discussion with a number of parties at the moment."
Crawford says Aeralis remains very interested in establishing a production facility for its aircraft in Wales. The company expects that such work would directly employ around 200 people, and support a further 3,800 positions through the UK supply chain.
"We see St Athan as being an ideal site for assembling the aircraft, but also for operating it as part of a training solution in the future, because the airspace around there is extremely supportive for that kind of activity."
A leasing operator could acquire a fleet of aircraft and deliver services via a defence aviation training business, also offering slots to international customers with a smaller throughput or insufficient budget to purchase their own assets, Crawford says.
Unlike current assets, he says the Aeralis jets could be easily upgraded or adapted for new tasks, thanks to their modular design and the use of an open mission systems architecture.
He also sees the family of aircraft as having strong export potential. "This is a UK enterprise that has a globally-relevant product," he says. "We can offer modules of the aircraft as part of offset, help facilitate sales agreements, and establish in-country manufacturing."
But with full designs yet to be completed, how likely is it that Aeralis could fly an aircraft before the end of its three-year deal with the RCO?
Crawford says discussions are under way with potential avionics and engine suppliers, and that the company already has engineering personnel in place among its 48-strong team. He also points to its use of digital design techniques and early engagement with the UK's military regulatory body.
"I think we are unprecedented in that we are doing this from day one with the Military Aviation Authority," he adds.
Under their newly announced agreement, Thales will "develop innovative philosophies, processes, devices and systems to operate the transformational Aeralis platforms", the companies say. This will "ensure that the training systems required to teach pilots to fly Aeralis will be ready in conjunction with the modular aircraft system".
Aeralis in July 2019 announced entering into a memorandum of understanding with Thales, with the activity "to evaluate concepts for a common simulator system that can be used to support all phases in a future flying training system".
With its RCO relationship in place, Crawford says Aeralis will use September's DSEI exhibition in London to promote its activities. "We really want to show that we are providing the UK with options in the training solution space for Tempest and FCAS."