UMS Skeldar has joined forces with Marshall Land Systems to offer a container-housed Battlefield Deployable Uncrewed Aerial System (BDUAS), which the partners say "offers unprecedented functionality, versatility and mobility".
Unveiled at the DSEI exhibition in London on 12 September, the expandable BDUAS infrastructure includes storage for one V-200 unmanned air vehicle (UAV), along with a maintenance and workshop area and ground control station accommodating two operators.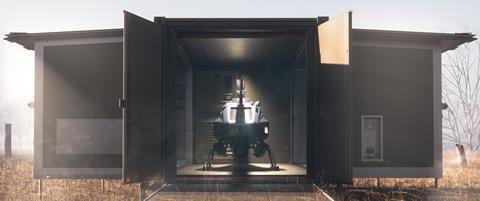 The combination is on show at Marshall's exhibit, with the vertical take-off and landing V-200 mounted atop the 6.1m (20ft)-long ISO container.
Lee Doherty, director of business development and sales at Marshall Land Systems, notes that the BDUAS is the result of a collaboration agreement between the companies reached at the IDEX show in Abu Dhabi in February 2023.
Doherty tells FlightGlobal that the mobile capability stems from operational lessons during the ongoing war in Ukraine, which have underscored the importance of fielding rapidly redeployable equipment. After being unloaded from a truck, the system can be readied for use within 45min by a team of three or four personnel, he notes.
"This compatibility allows for seamless transportation over air, land, road and rail, ensuring easy access to any location – including transfer between naval and land domains," UMS Skeldar says.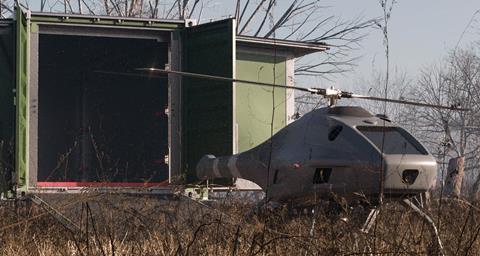 The V-200 is a 245kg (540lb) maximum take-off weight class UAV, with an endurance of up to 6h while carrying a 45kg payload of sensors.
"By combining our expertise, we have created a game-changing product," says Marshall Land Systems managing director Gary Moynehan. The expandable container design draws heavily on the company's past provision of a deployable CT scanner capability for the Australian army.
"We are thrilled to be part of this revolutionary endeavour, leveraging our strategic partnership with Saab to deliver a product that will set a new benchmark in the industry," says UMS Skeldar vice-president of business development Richard Hjelmberg. The company is a venture between Saab, which has a 47% holding, and UMS Aero Group.
Potential applications for the modular system include intelligence, surveillance and reconnaissance and border monitoring tasks, and Doherty notes: "We are more or less ready to take orders."

Craig Hoyle joined Flight International in 2003, and has edited the now monthly title since 2015. He has reported on the UK, European and international military aviation sector for more than 25 years, and produces our annual World Air Forces directory.
View full Profile